ATLAS TURF INTERNATIONAL FORMS STRATEGIC RELATIONSHIP WITH JEBSEN & JESSEN
Jebsen & Jessen Technology – Turf and Irrigation Named the Exclusive Distributor for Atlas Turf in Key Southeast Asia Countries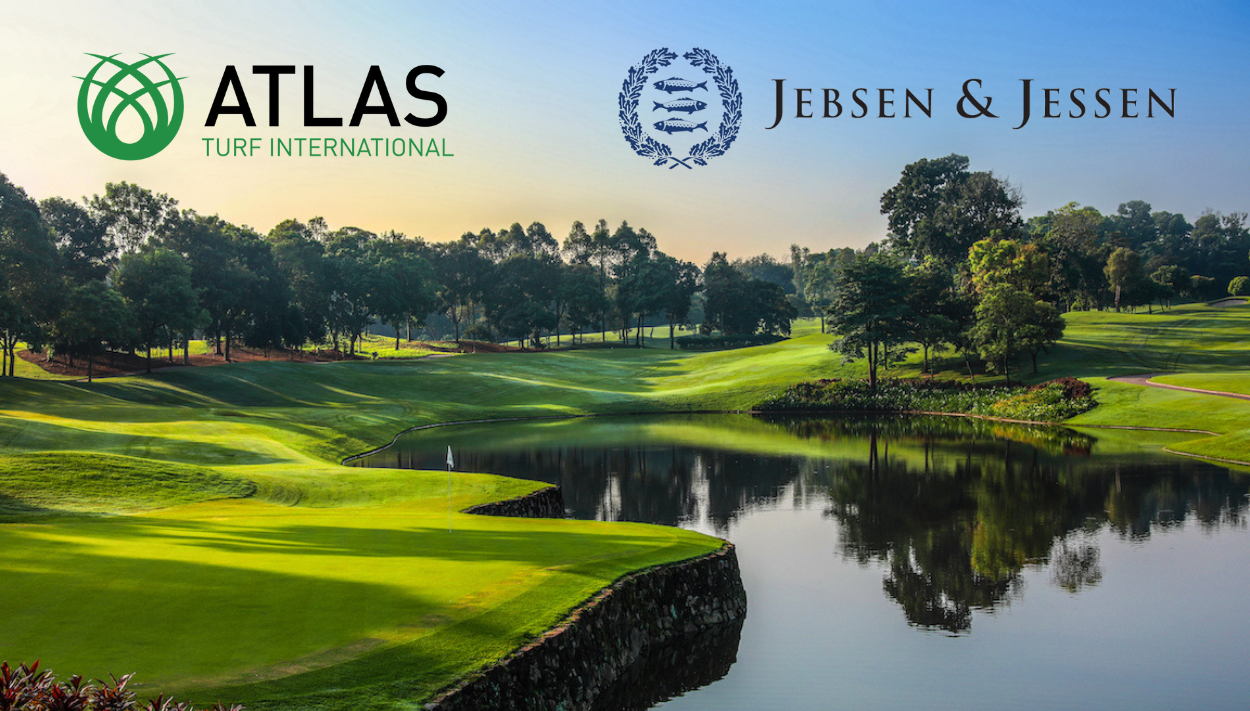 Singapore, 29 August 2022 - Atlas Turf International announced that they are naming Jebsen & Jessen Technology – Turf and Irrigation (JJ T&I) as their exclusive distributor in Southeast Asia. Jebsen & Jessen will represent Atlas Turf's complete line of turfgrass products throughout Brunei, Cambodia, Indonesia, Laos, Malaysia, Myanmar, Singapore, Thailand, and Vietnam.
The two companies have long histories in the region, supplying quality products to the golf, sports, landscape, and infrastructure markets. Atlas Turf offers the industry's most extensive portfolio of turfgrasses. Jebsen and Jessen, through its Technology – Turf and Irrigation (JJ T&I) division, supports the same markets with complementing products.
"The alliance is a perfect fit," said John Holmes, president of Atlas Turf International. "Serving identical markets, our product lines combine naturally to provide customers with one source for all turf-related needs."
With the largest selection of turfgrass products available in the region, Atlas Turf offers the industry's most innovative turf varieties, including vegetative and seeded paspalums and bermudas, as well as zoysias and native grasses. The extensive and evolving product line features turfgrasses that meet diverse project needs and ever-expanding sustainability challenges. Advanced varieties deliver superior salt tolerance, shade and low light tolerance, drought and heat tolerance, rapid recovery from injury and wear tolerance, disease resistance, and more.
Each turfgrass from Atlas Turf is licensed and certified. Vegetative varieties are thoroughly inspected to ensure purity before shipping. With deeper sprigs and a higher number of growing points on each plant, grow-in is faster. Seeded varieties are among the most advanced on the market from the industry-leading breeders at Pure Seed. ​
As a leading distributor of turf care solutions in Southeast Asia, JJ T&I provides a comprehensive range of products and services which ranges from turf and landscaping maintenance equipment, buggies and utility vehicles, to irrigation systems and fertilisers from the world's leading manufacturers. The partnership will allow JJ T&I to expand its portfolio of turf solutions as well as provide integrated solutions for convenience and efficiency to customers.
"We are excited to be the exclusive distributor in Southeast Asia for Atlas Turf International, a leading turfgrass products company. This distribution agreement strengthens JJ T&I's portfolio of high-quality turf care products and solutions, and further solidifies our position as a company well placed to meet the needs of our customers," said Philipp Hoffmann, Regional Director of Jebsen & Jessen Technology – Turf & Irrigation. "We look forward to the start of a rewarding partnership with Atlas Turf and introducing its value-added products to the region."
"We are proud to join forces with Jebsen & Jessen," said Holmes. "Just as we strive to do, Jebsen & Jessen places emphasis on providing customers with the products they need to be successful. We are confident they will represent the Atlas Turf line of products with integrity."
Atlas Turf's grasses have performed at the pinnacle of sporting events, including the Olympics and numerous golf events on the PGA Tour, European Tour, Asian Tour, HSBC Women's World Championship at Sentosa Golf Club, and will be featured at the upcoming FIFA World Cup 2022 in Qatar and the 2023 Ryder Cup at Marco Simone Golf and Country Club in Rome.
About Atlas Turf International
Atlas Turf International is the source for the highest quality turfgrasses worldwide, including warm season, cool season, and native grasses. Extensive experience in the golf industry, knowledge of worldwide distribution channels, relationships with the leading turf experts, and alliances with the world's premier golf associations give Atlas Turf an unparalleled position in the global turfgrass market. More than a supplier, Atlas Turf collaborates with clients to provide complete grassing solutions from selection through grow-in. For more information, visit www.atlasturf.com.
Twitter: @atlasturf
Instagram: @atlasturfinternational
Facebook: @atlasturf
About Jebsen & Jessen Technology – Turf & Irrigation
A division of the Technology business unit of diversified industrial conglomerate Jebsen & Jessen Group, we provide total solutions in turf care and horticulture management for golf courses, parklands, stadiums and other public facilities throughout South East Asia. Our products range from turf maintenance equipment, buggies and utility vehicles to sprinkler systems and fertilisers. With complete service, warehousing and distribution facilities in the region, we are well equipped and ready to adapt swiftly to local requirements. Beyond distribution, we offer a full service, including after-sales support, spare part supply chain, training and commissioning. We also offer a dedicated turf & horticultural management service, providing consultancy and training. For more information, visit www.turftech.jjsea.com.
​ ​ ​ ​