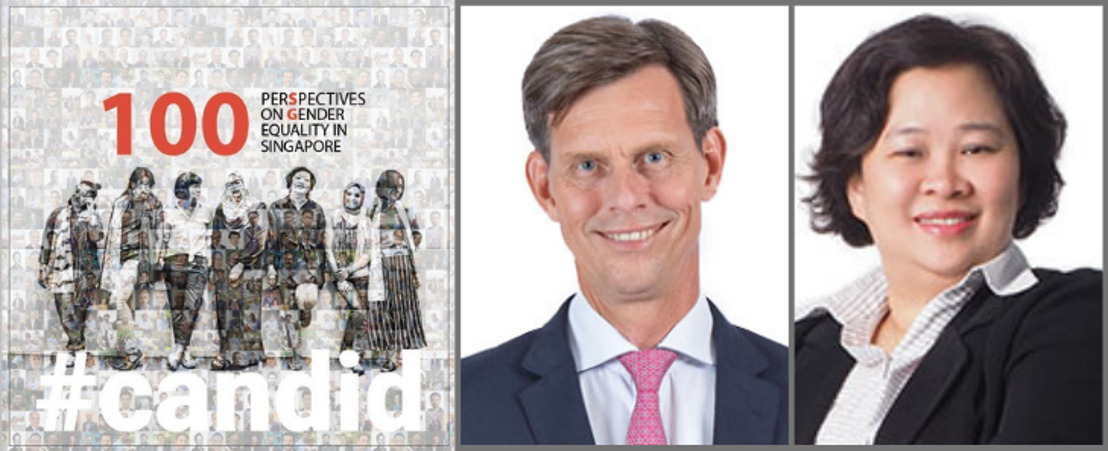 #Candid on Gender
Jebsen & Jessen CEOs Share Their #Candid Perspectives on Gender Equality
Wednesday, 5 January 2022 — The Swedish Chamber of Commerce Singapore (SwedCham), of which Jebsen & Jessen has long been a strong supporter, decided to harness the opportunity to mark 2021 - the Year of Celebrating SG Women - with the release of a ground-breaking collection titled "#Candid: 100 Perspectives on Gender Equality in Singapore", which features personal reflections from 100 men from all walks of life on the importance of gender equality.
Bringing this book to life was a compassionate collaboration; championed by SwedCham and conceptualised by creative agency Dilucidar, the project has also been supported by over 20 SwedCham partners and sponsors, including Jebsen & Jessen. The printed book was officially launched on 9 December 2021, where it was handed over by the Embassy of Sweden and SwedCham to Minister of State Sun Xueling, at the Ministry of Social and Family Development.
Why men's reflections? SwedCham wanted to steer away from the perception that gender equality is solely a "woman's issue" by focusing mainly on male perspectives; also to broaden the conversation, and normalise it. The book demonstrates the power of dissolving any social reservations around expressing honest points of view on a potentially sensitive topic; the hope being that when the various stories come to light, they can help to shift mindsets, change the narrative, and move the needle on diversity, equity and sustainability.
One of these 100 candid male perspectives is that of Jebsen & Jessen's Group CEO, Per Magnusson. In his piece, "Diversity Gives Us an Economic Edge", Mr Magnusson describes the act of challenging gender biases as being "simply the right thing to do"; he reflects on his discussions with his own adult daughter who is entering the workforce, and he expresses that everyone should strive to be aware of any unconscious discrimination they may be exercising.
Moreover, Mr Magnusson points out the senselessness of utilising only half an investment; referring to the workforce in his native Sweden, he highlights the economic and social benefits of enlisting the "brainpower" that women bring to the table, as well as the importance of a strong social support system. Finally – in alignment with our core values of fairness and equity - Mr Magnusson explains how the hiring practices at Jebsen & Jessen are designed to ensure a fair shortlist, representing both genders equally, but in the end, the final candidate is selected based on his or her skillset.
Click here to read Per Magnussons's full story.
The book also tells the stories of various inspirational women, including Lim Siew Tin, CEO of Jebsen & Jessen Ingredients. Ms Lim's piece "From Tradition to CEO" makes an immensely meaningful addition to the 'Breaking Stereotypes' chapter of the book. Her personal depiction of growing up in a "family where men were the key focus when it came to education, food distribution, housework" and her subsequent experiences, is a very real example of a woman who has broken down socially constructed barriers, and now makes a concerted effort to "give women a place to excel" too. Ms Lim also reflects on her 24-year career with Jebsen & Jessen, echoing Per Magnusson's view on the importance of fostering a work environment that supports and values female employees, especially within male-dominated industries like those in which Jebsen & Jessen operates.
Click here to read Lim Siew Tin's full story.
Both CEOs convey the belief that Jebsen & Jessen has a strong foundation on which to continue building equitable workplaces and societies. However, there are issues that have yet to be examined and areas to be improved, not just in Singapore, but across all the countries in which we work and have our roots. One positive step on this journey is sharing "candid" stories and insights such as these, and working to break down stereotypes.
Click here to access the full digital version of "#Candid: 100 Perspectives on Gender Equality in Singapore" and learn more about the initiative.
Follow our LinkedIn, Instagram, Facebook accounts to engage in the campaign around this initiative, which will carry on until International Women's Day on 8 March 2022.