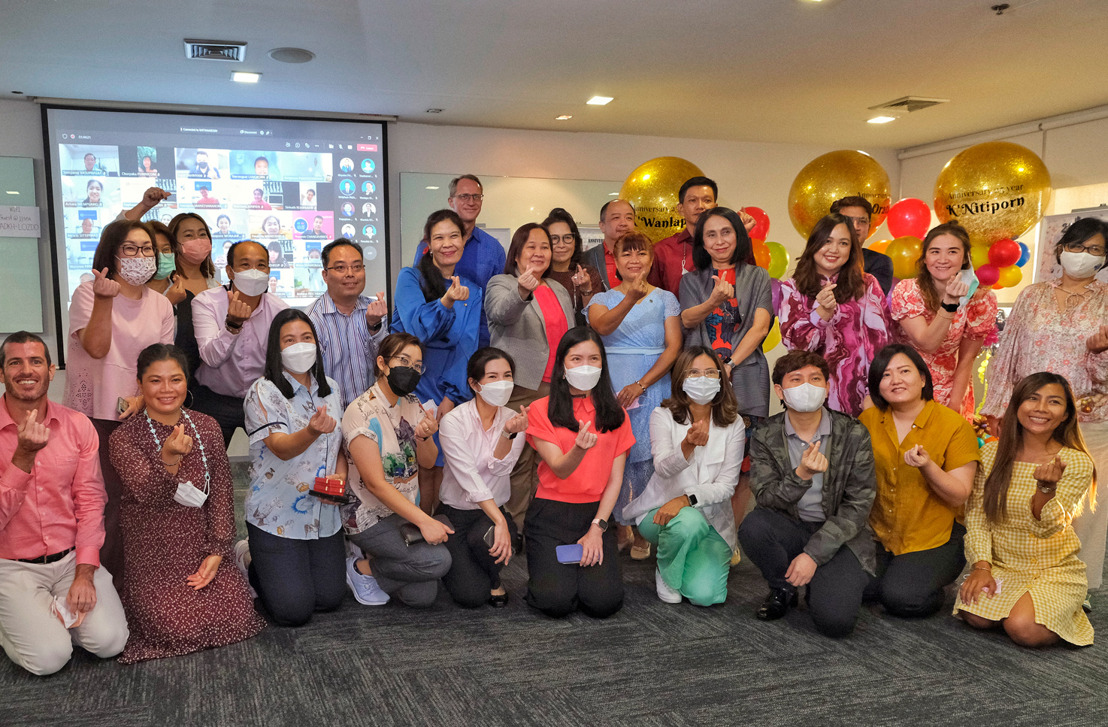 Celebrating 100 years of service
Jebsen & Jessen Ingredients Thailand celebrates a combined 100 years of service with very special guests
On the 15th of March 2022, three staff celebrated their 25-year anniversaries with Jebsen & Jessen Ingredients Thailand.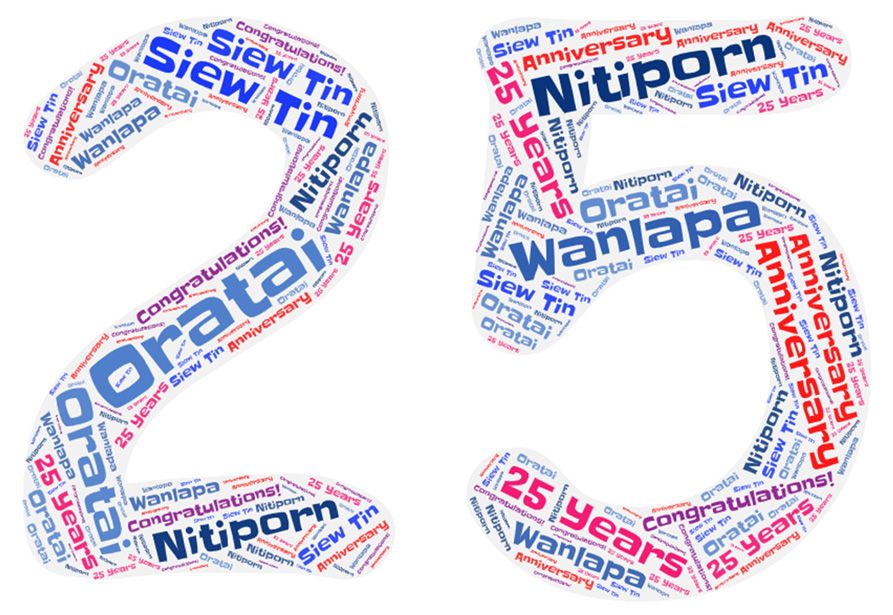 In attendance for the small in-person gathering were our Chairman, Mr. Heinrich Jessen, and our CEO, Ms. Siew Tin Lim, who were both in Thailand for the first time since the pandemic interrupted international travel. Also in attendance were JJIT's Managing Director, Mr. Paul Chan, JJTT's Managing Director, Mr. Jonathan Lee, as well as other members of JJ Ingredients' leadership team, and other special guests from Ingredients and Business Services in Thailand. The remaining attendees joined the event virtually.
Celebrating their 25-year anniversaries were Khun Wanlapa Inchumnum (Customer Service Supervisor), Khun Nitiporn Permsuk (Feed Department Manager & Regional Market Development Manager), and Khun Oratai Kortwong, our Office Maid.
Khun Wanlapa joined Jebsen & Jessen on January 9th, 1996 and said during her video presentation that in 25 years working for Jebsen & Jessen, there has never been a day where she did not look forward to going to work and she truly loves her job and is happy to come to work every day - she is very proud to work for Jebsen & Jessen.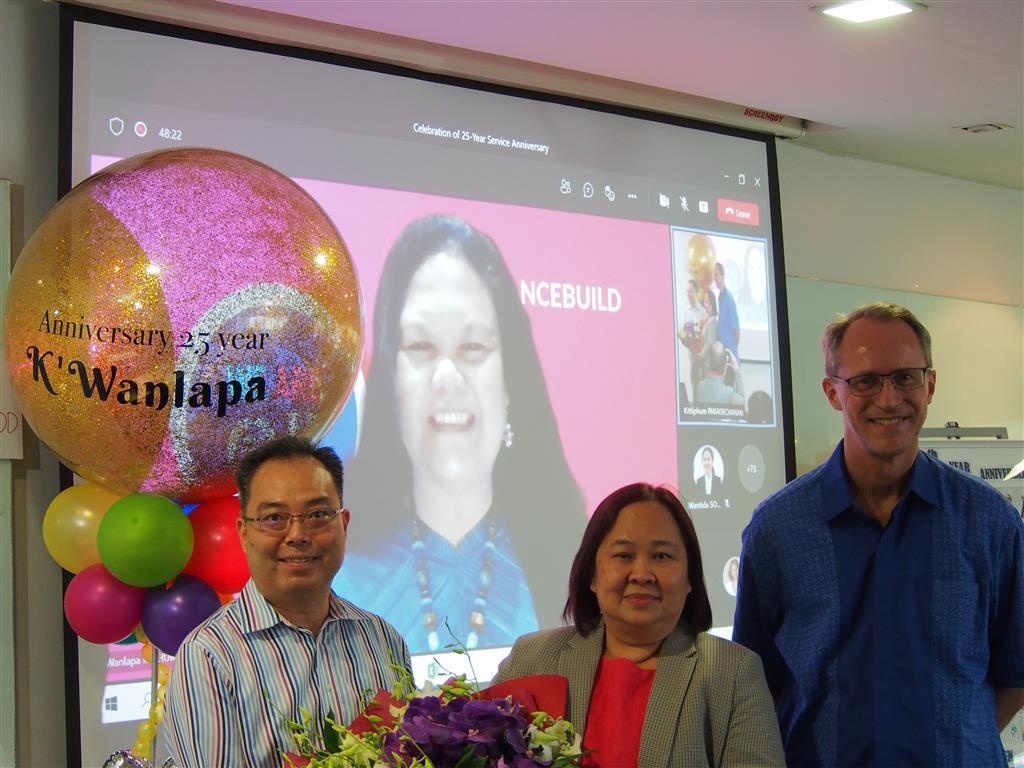 Khun Nitiporn has been with Jebsen & Jessen since 1st of April 1997, and shared how she was at first intimidated when she started working for the group. Her English was not very good and she didn't know how to use a computer. Needless to say, she conquered her fears and overcame these and many other challenges in her 25-year career.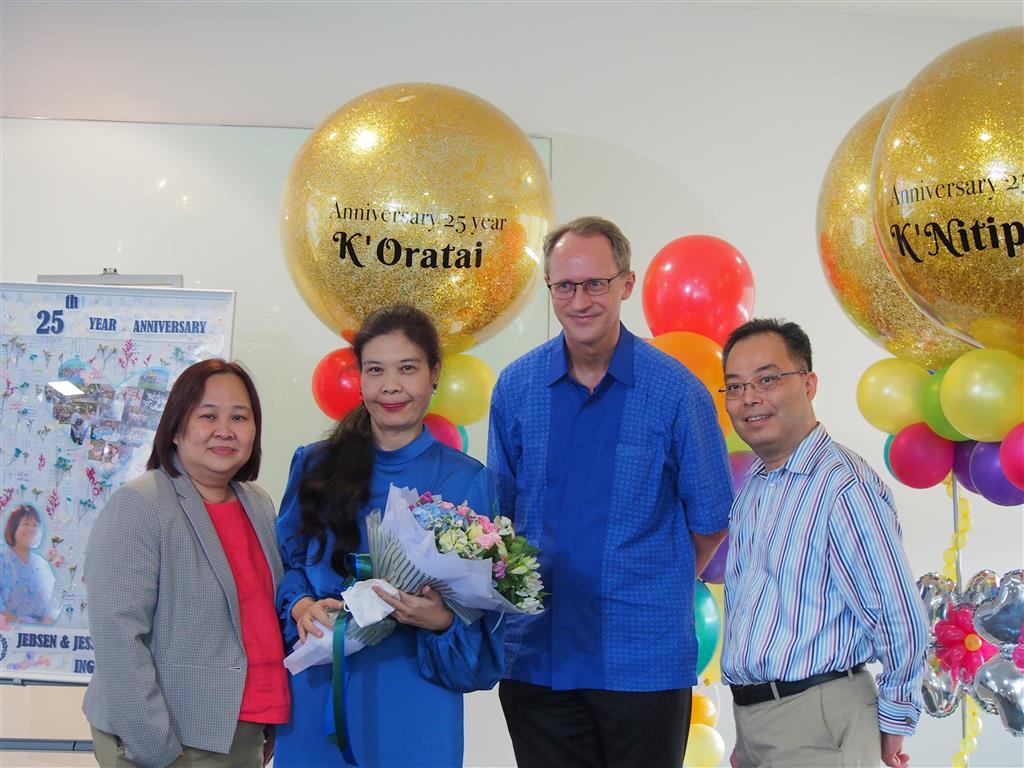 Khun Oratai joined the group on May 2nd, 1997, and entertained us with a very funny video presentation. Khun Oratai's nickname is "Yim", which means smile in Thai, and the nickname couldn't be more fitting. She always greets everyone with a big smile every morning and said that she loves to serve all of our needs and make us happy every day.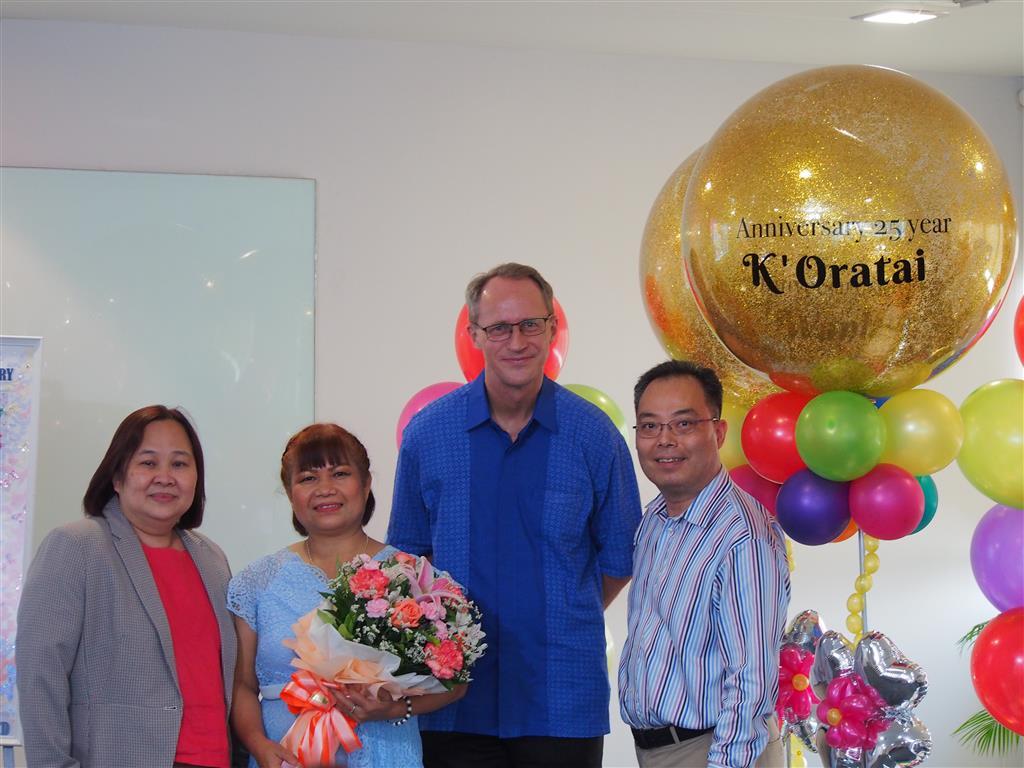 There was a lot of laughter and heartfelt sentiment by all during the video presentations, memory sharing sessions, and also when photographs spanning the last 25 years took us all on a trip down memory lane.
During his speech, our Chairman, Mr. Heinrich Jessen spoke about what it means to work for the JJ family for so many years, praised the three guests of honour with respect, admiration and gratitude, and thanked them for inspiring us all.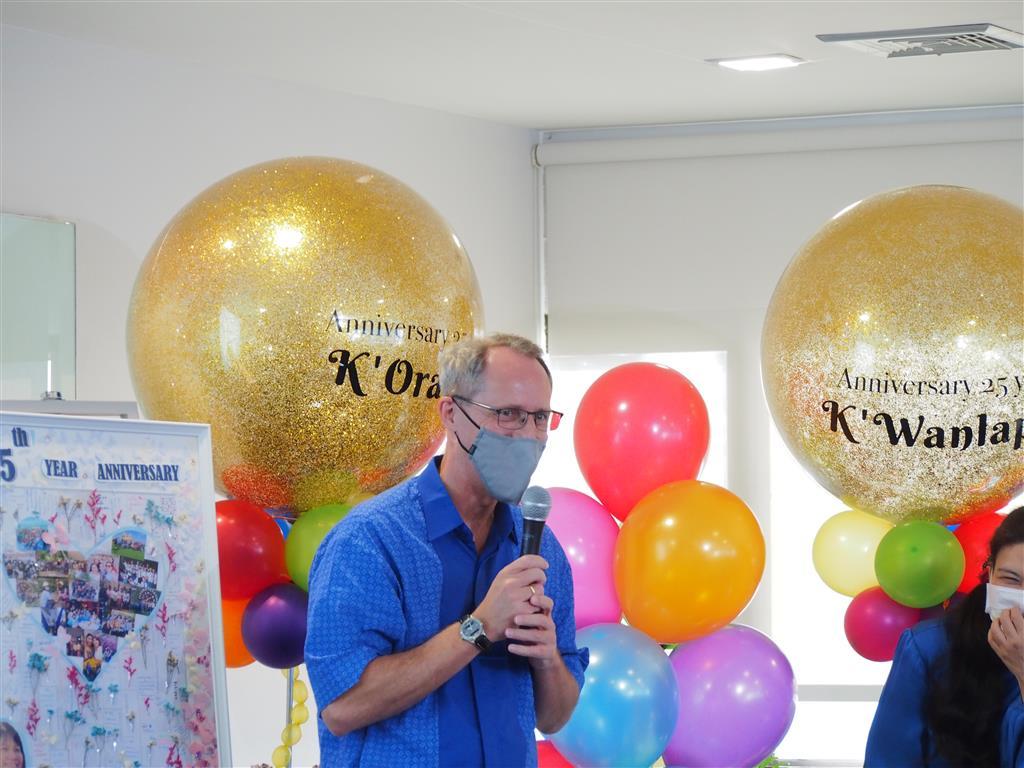 Before the event ended, there was one more special surprise in store, as our CEO, Ms. Siew Tin Lim, also celebrates her 25-year anniversary in April this year. It was only fitting that we also had a small ceremony and moment of appreciation for her 25 years of service and for all she has done for Jebsen & Jessen Ingredients over the years. ​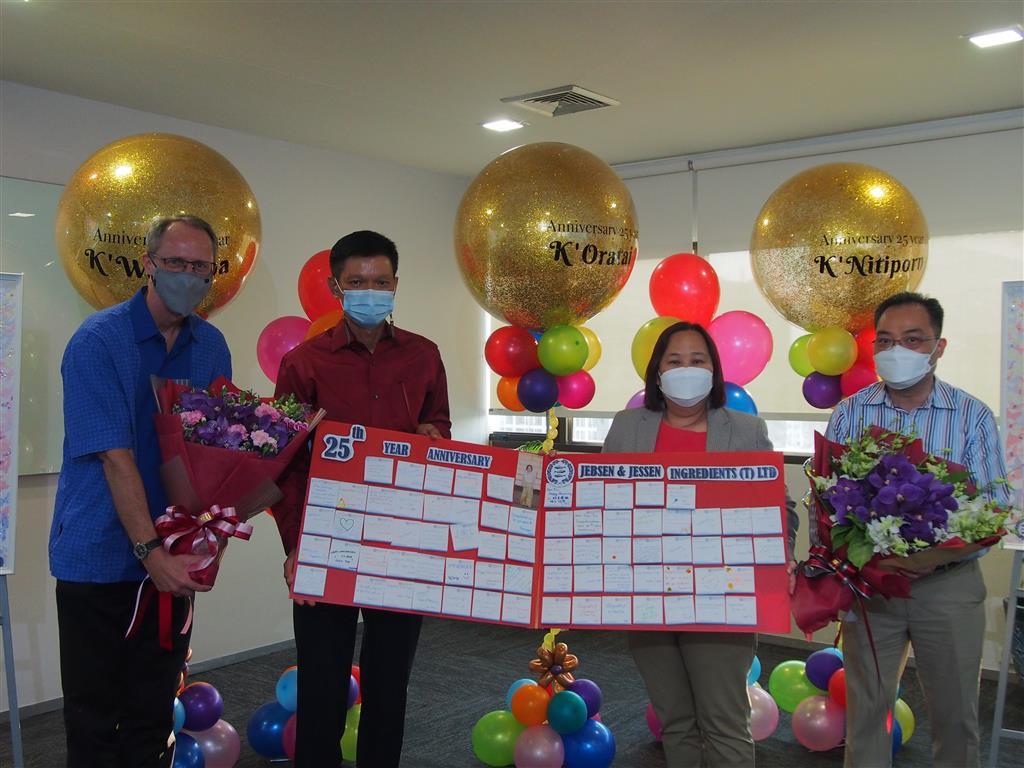 Happy 25-year anniversary to Khun Wanlapa, Khun Nitiporn, Khun Oratai and Ms. Lim! You have all been an essential part of our organisation's journey and success. We are all grateful and inspired by the dedication and passion you have shown over the years. Thank you and good luck on your continued journeys with the JJ family!