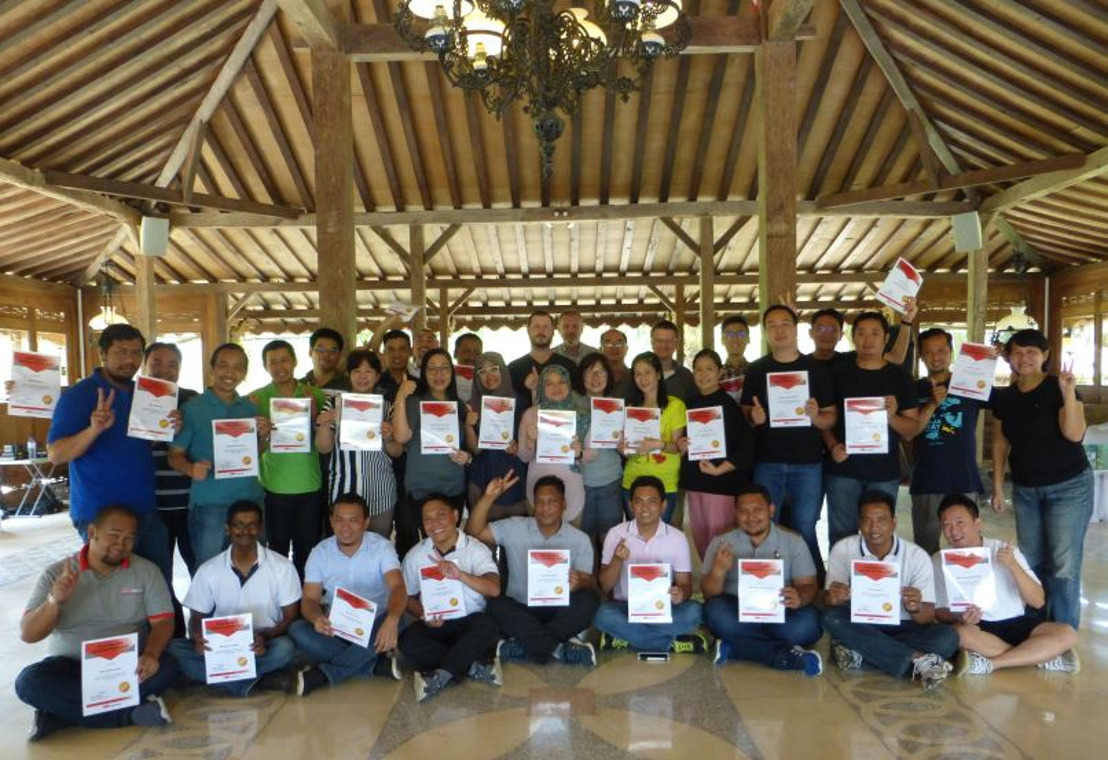 Celebrating the Third Cohort of MHE Talents!
30 colleagues take on a three-day graduation course to mark their completion of the MHE-Demag Talent Programme.
From Pahang in 2016 to Surabaya in 2017, this year's cohort of 30 middle management (MM) and executive (E) Talents found themselves gathered in Yogyakarta for their graduation ceremony.
Joining the group from September 20-22 were Regional Managing Director Karl Tilkorn, Regional Director (Sales & Markets) Klaus Schilling, President Director (Indonesia) CP Tai and Senior Regional HR Manager Lim Sue Chuen.
The event started with Karl's facilitation of Personal Mastery where he brought the graduands through the stages — from Unconsciously Unskilled to Unconsciously Skilled. He urged the group to cherish all 'aha' moments in their lives as learning opportunities. The Personal Iceberg activities, which saw graduands pairing up and taking part in, helped them understand that their personal values and beliefs can impact their mindsets and behaviours, and helped enhance their self-awareness.
CP Tai gave interesting insights and useful tips on career progression within the Group. In his typically forthright manner, CP shared light-hearted illustrations drawn from his own personal experiences and observations.
Separately, Klaus began his session with an intriguing question: "Why does the apple fall?" That was the start of his sharing about the concept of a player's mentality versus that of a victim's. Klaus impressed on the graduands that empowerment comes with responsibility and that includes taking up challenges and making certain decisions. He concluded by saying that if you do not see yourself as part of the problem, you will never become part of the solution.
Despite the relatively packed agenda, the graduands made time for morning stretching exercises led by Fifi Amaliawati from MHE-Demag Indonesia and evening team-building activities led by Jessie Ang from MHE-Demag Singapore. The group also squeezed in a couple of hours to visit the famed Borobudur for sightseeing — and a fun team bonding challenge! Split into three teams, they were tasked with getting the best photo at any scenic spot in Borobudur.
This year, the mandatory Talent Sharing segment was done with a difference. Instead of conventional PowerPoint presentations, the teams were asked to think of creative ways, to sum up, their learning experiences to the judges, whether in the form of a sketch, story-telling drama or even a 'live' talk show! After the final scores were tallied, all three teams had exactly the same score! The judges could not name a winner, but that wasn't much of a problem. All 30 Talents were more than happy to split the prizes among themselves!
To close the session, Senior Regional HR Manager Lim Sue Chuen shared a thought-provoking topic on Self Deception — an act where we see others, but not ourselves, as the problem. She illustrated how such a mindset could give rise to conflicts and affect personal and working relationships. Sue concluded by encouraging the graduands to learn to "get out of the box" and to remember to always "treat people as persons and not as objects".
Following the brief but inspiring sharing of their journey as MM Talents by Arthur Tibon and Charlemagne Lim from MHE-Demag Philippines (both of whom have recently joined the ranks of senior management), we informally closed the event with one last round of rah-rah activities to re-ignite the tremendous sense of camaraderie we all felt during the event.
Our heartiest congratulations to all Talents on your graduation! This is not the end but the beginning of your continuous learning journey!