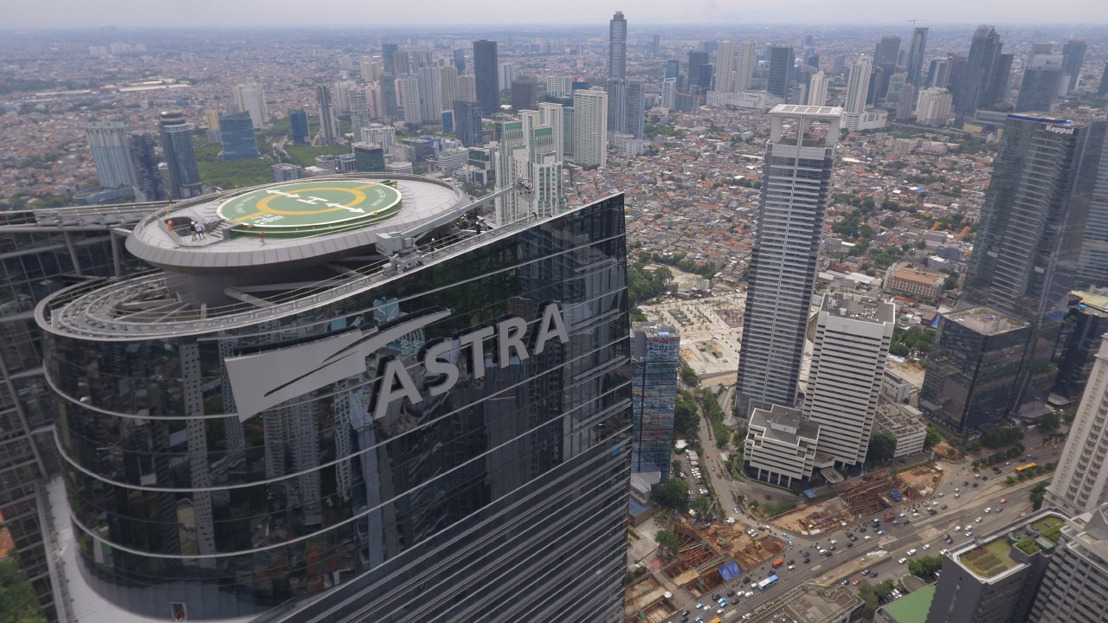 MHE-Demag: Cleaning Giants
MHE-Demag Installs South East Asia's First Full Climbing Building Maintenance System in Jakarta's Third Tallest Building
Uniquely designed tracks and special shunting cart system integrated into a 3D rail layout enables full safety and efficiency in one of the region's most exciting skyscrapers.
Rising 260m above the thriving metropolis of Jakarta is Menara Astra, the third tallest skyscraper in Indonesia and one of the most unique buildings in the region. Located in the heart of Jakarta, Indonesia, Menara Astra consists of a 51-storey office tower and three prestigious apartments. Topping the building is a curved facade that rises to meet the sky, striking in aesthetics but presenting challenges to engineers who turned to MHE-Demag, one of the top gondola designers in the region.
Gondolas, also known as building maintenance systems are customised and permanently installed on buildings for cleaning and maintenance and requires a unique blend of engineering, technical and architectural appreciation. 46-year old MHE-Demag, a joint venture between diversified industrial group Jebsen & Jessen (SEA) and Demag Cranes and Components, is one of the leading gondola makers in the region and often called upon to provide solutions for some of the most iconic but challenging buildings in the region including the Malaysia International Trade and Exhibition Centre (MITEC), Petronas Twin Tower (Malaysia), Marina Bay Sands (Singapore), BNI 46 (Indonesia), Bitexco Financial Tower (Vietnam), KL Tower (Malaysia) and Okada Manila (Philippines).
"The unique roof of Menara Astra is aesthetically striking but very challenging to develop a building maintenance system for," said Karl Tilkorn, Regional Managing Director, MHE-Demag. "It requires a very special track to be customised and installed, and a special shunting cart system that is seamlessly integrated into a 3D rail layout."
To meet the challenge, MHE-Demag designed and installed 550 meters of round track around a complex 3D beam layout covering a floor space of 38 by 56 square meters underneath a helipad. The track network stretches 32 meter vertically from the 46th floor at 228-meter height and ends at the tip of the roof facade at 260-meter. It is a piece of engineering marvel where 90% of sections are unique and each requires to be customised and skillfully fitted on site, 260 meters up in the sky.
Each track and rack section varies between 3 to 6 meter and are tailored to the profile of the building. The vast majority are unique with different bend profiles, shapes and lengths - created in the workshop and welded in place at the specific location it was intended for.
"The maintenance system is completed by a one-of-its-kind automated shunting cart that tilt, travel and self-leveled connects the two different tracks together. The shunting cart system connects the two building maintenance units (BMU) that are running on two separate set of tracks, which have a totally different layout and elevation. This design features allow the BMUs to switch to either side of the tracks to increase uptime and availability to all areas of the facade should one BMU is scheduled for maintenance," continues Karl.
MHE-Demag supplied two units of MHE-Manntech climbing building maintenance system with rack & pinion, tubular track system, one unit of shunting cart for interchangeable building maintenance system, safety line for every canopy and balcony, and MHE trolley with Chameleon I for the annex building. For the apartments, three units of MHE-Manntech building maintenance system with two telescopic jibs and monorail with Chameleon I cradle were installed.
MHE-Demag
Established since 1972, MHE-Demag is the name for material handling. We engineer, manufacture and maintain a comprehensive range of industrial cranes and hoists, warehousing equipment such as lift trucks and dock levellers, aerial work platforms, building maintenance units for safe working at heights, compact construction equipment, as well as automated car parking systems. Our customised solutions serve a wide range of industries from general manufacturing to aerospace, covering a broad customer base.
A joint venture between Jebsen & Jessen (SEA) and Demag Cranes and Components GmbH, MHE-Demag is headquartered in Singapore and operates within its close-knit regional network in Australia, Brunei, Cambodia, Indonesia, Laos, Malaysia, Singapore, Myanmar, Papua New Guinea, the Philippines, Taiwan, Timor-Leste, Thailand and Vietnam, among others. Our operation is supported by 11 manufacturing facilities and more than 70 strategically located branches in the region.
For more information, visit us at www.mhe-demag.com.
Jebsen & Jessen (SEA)
Since 1963 we have worked in partnerships with industrial global market leaders to transform possibilities into opportunities. Operating across the region, our activities span manufacturing, engineering and distribution. Our 4,400 people develop meaningful products and services for the 20,000 customers we serve. We have seven core business units: Cable Technology, Ingredients, Life Sciences, Material Handling, Offshore, Packaging and Technology. We operate in ASEAN and beyond through a network spanning 90 locations, including 19 manufacturing facilities.
For more information, visit us at www.jjsea.com.
Anthea Ho Manager - Corporate Communications, Jebsen & Jessen (SEA)