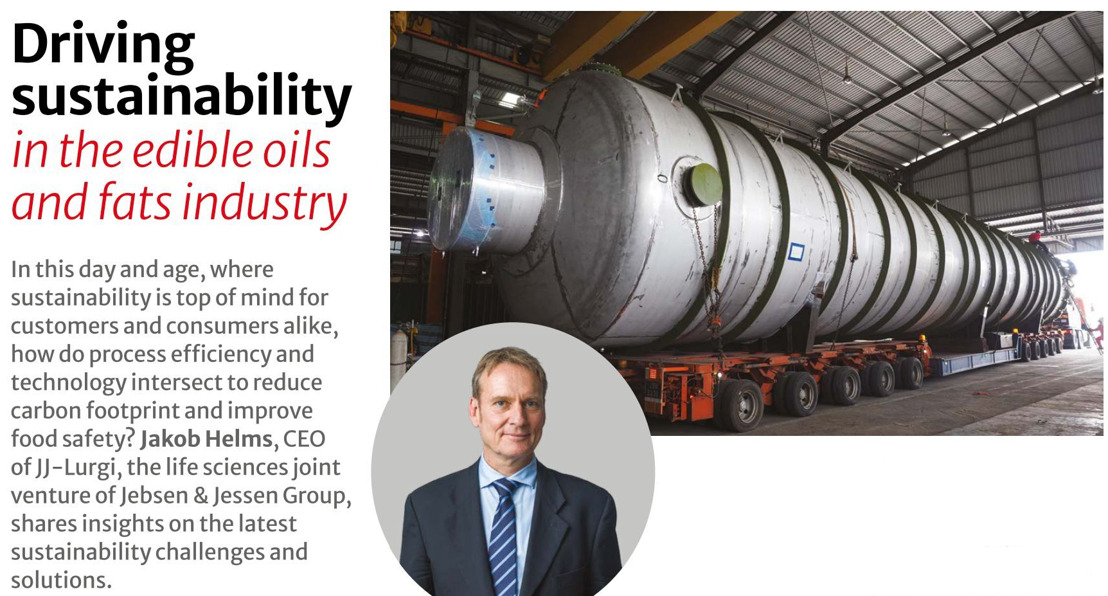 Driving Sustainability in the Edible Oils and Fats Industry
Jakob Helms, CEO of JJ-Lurgi, the life sciences joint venture of Jebsen & Jessen Group, shares insights on the latest sustainability challenges and solutions.
Across the globe, oils and fats play an important part in the commodity market on which many key sectors depend. This rings especially true in the South East Asia region, which is well known for its production and export of edible oil and modified fat by-products such as cooking oils, butter and margarine, among others.
In particular, palm oil is one of the most dominant and efficient oils in the world, with Indonesia and Malaysia producing 84% of the global supply*. Palm is the highest yielding crop for cooking oil and arguably the most sustainable option, requiring between four to 10 times less land area to get the same amount of oil yield compared to other crops* like soybean, coconut and sunflower.
Discussions surrounding the environmental impacts of edible oil production, such as loss of land area, deforestation, wastage and carbon footprint, have given rise to the due need for sustainable practices. In particular, this is due to increased awareness of environmental, social and governance (ESG) concerns in capital expenditures as a key point in making investment decisions; a desire to improve operational efficiency in terms of utility consumption and manpower; an adherence to legislation; and a growing preference for safe, pure and organic food products.
Customers have been looking to improve their practices by getting to the root of the environmental impact of the oil and fat refining process.
CURRENT SUSTAINABILITY CHALLENGES
Diesel, wastewater, and heat are essential to current oil production practices, but they create waste and emissions, and take up significant energy and manpower.
For example, during the processing of edible oil, deodorisation is a steam-distillation process for the removal of free fatty acids and undesirable odours and flavours, and the burning of diesel is necessary to generate steam to heat the oil and perform the deodorisation process. This typically leads to increased operating expenditure, as well as sulphur emissions. Many vacuum systems within the plant require steam to run, and the amount of water needed to cool the systems often leads to the generation of wastewater. To avoid biodiversity damage caused by the contamination of rivers and streams, huge investments in large wastewater treatment plants are needed, leading to additional space, energy and manpower requirements.
Besides being conscious about the amount of energy needed to refine the oil that consumers see on supermarket shelves, edible oils and fats refiners also find great importance in ensuring product safety and purity. Recently, there have been increasing concerns surrounding the formation of contaminants — such as 3-monochloropropane diol (3-MCPD) and glycidyl esters (GE) — during the refining of heat-processed food oil.
ADDRESSING THESE NEEDS
JJ-Lurgi is proud to work and partner with customers who are committed to ensuring long-term sustainability in their plants, and finding a balance between protecting human health and the environment. As part of the Jebsen & Jessen Group, and a joint venture with Air Liquide, we continually adapt and localise our German technologies to meet the specific needs of our customers.
In the palm oil industry, JJ-Lurgi seeks to offer good value to our customers in the form of more efficient plants, to drive the palm oil industry locally and around the world through sustainable processing methods. Over the past ten to 15 years, through innovation and adept application of new and old technologies, JJ-Lurgi has reduced the diesel consumption in our plant design by over 30% — leading to savings of one ton of diesel per ton of oil produced — and we plan to become greener and more efficient with our solutions and technology.
For example, our VertiFLO Economiser for refining plants is designed to maximise heat recovery between refined and bleached oil. With the best heat recovery under vacuum in its class, it leads to high savings in fuel consumption for heating. As no sparging steam is required for agitation, there is no steam consumption; this is the only economiser under vacuum to have this feature. The short retention time of oil within the economiser also minimises the formation of process contaminants such as 3-MCPD and GEs.
To mitigate the number of contaminants formed during the oil refining process, JJ-Lurgi offers multiple process solutions such as oil washing, double refining, as well as post-stripping, that are capable of reducing 3-MCPD and GE to their respective safe limits for consumption.
Beyond heat recovery, another aspect of moving towards sustainability would also be to reduce steam and hexane consumption. Through the installation of our Twin-Track Sliding Cell Extractor capable of multi-seed extraction in our largest extraction plant project, we helped our customer achieve a 20% and 30% reduction in steam and hexane consumption, respectively, compared to plants of similar scope. With a mild vacuum technology that reduces hexane in wet meals and live steam consumption at the desolventising, toasting, drying and cooling (DTDC) stage, this extractor has a capacity of over 5,000 tonnes per day, maximises oil extraction and increases energy efficiency.
Another extraction technology includes the Waste Water Steam Generation System, which converts wastewater generated in the process into usable live steam for the DTDC stage. With no effluent from the process plant, no additional wastewater load for water treatment is generated. Using our technology, we are able to help biodiesel plants adopt a zero-wastewater approach. In this case, water used for methyl ester washing is recovered in the glycerine water evaporation unit and recycled once more for washing, thus closing the wash water loop.
MOVING FORWARD
The journey towards sustainability does not stop here. Be it through incremental changes to individual processes, or a complete re-look at plant designs on a larger scale, the industry needs to keep balancing process efficiency with lower energy consumption and emissions.
Today, R&D is a mainstay in keeping abreast of engineering solutions. One aspect that JJ-Lurgi finds much promise in includes closer collaboration with universities and clients, and we look forward to further improving our innovations with sustainability as the mainstay. As societal and industry demands continue to shift towards more sustainable, efficient and healthier options, businesses with the right engineering and technology partners will be able to ride the wave and position themselves for the future.
~ Originally published by Food & Beverage Asia