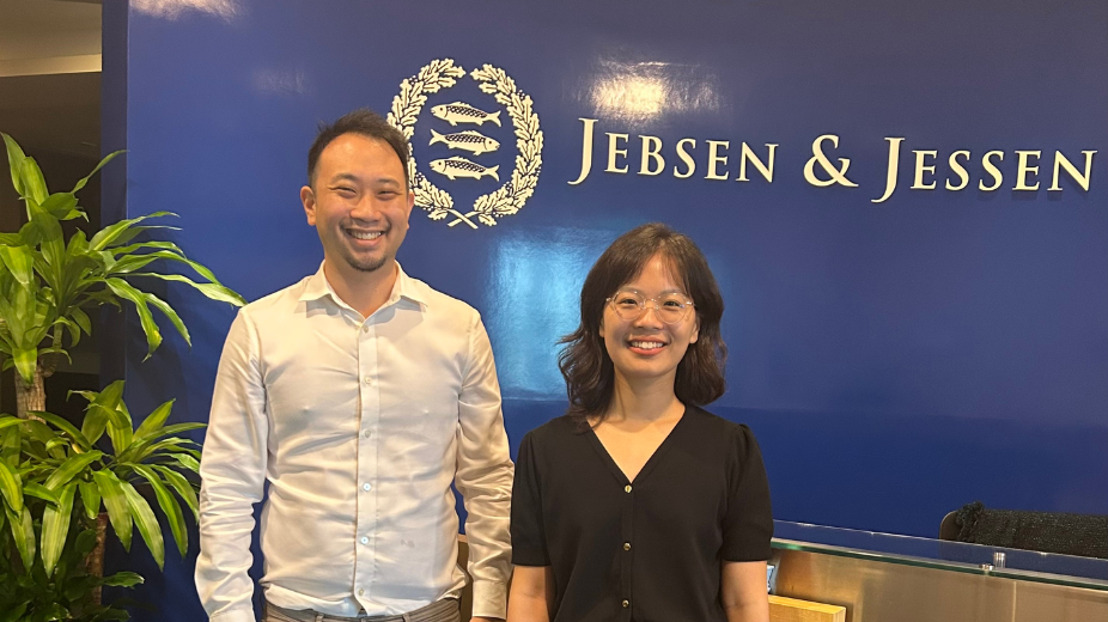 Intern Spotlight: Jessie Liang
Jessie shares her experience of doing an M&A internship at Jebsen & Jessen Group in Singapore.
There's nothing quite like hearing employee experiences firsthand. Here, we interview Liang Zhijie, also fondly known as Jessie who has been an intern for five months under Lucien Ong, Director – M&A and Corporate Development for Jebsen & Jessen Group.
Tell us a bit about yourself
Jessie: I hail from Jiangsu, a province neighbouring the bustling city of Shanghai in eastern China. My journey started in Xuzhou, my hometown, and continued with my bachelor's degree in Nanjing. After graduating, I joined Deloitte China, where I worked as an auditor. However, when the pandemic struck, it presented an opportunity for me to pursue my dream of joining the MBA programme at Nanyang Technological University. Considering the favourable circumstances, I decided to take the leap and embrace a new chapter in my life. Singapore, although known for its hot and humid weather, offers the perfect environment for swimming, and it was there that I finally learned how to swim! As a self-proclaimed foodie, I find joy in exploring different cuisines from different countries.
Jessie's pursuit of an M&A internship with Jebsen & Jessen stems from her desire to transition into the Finance/Investment Industry while leveraging on her auditing and accounting experience in China. This internship presents a unique opportunity for Jessie to develop her skills in understanding how conglomerates approach M&A as strategic buyers. It allows me to gain familiarity with how companies develop M&A deal flow and evaluate potential opportunities.
"I recall my interview with Lucien, my supervisor at Jebsen & Jessen Group. As I entered the office, the warm and welcoming atmosphere instantly eased my nerves. During the interview, I discussed my prior work experience, career aspirations, and learned about Jebsen & Jessen's diverse business units and the responsibilities of the M&A department. Thanks to my background in a Big 4 accounting firm and a strong rapport with Lucien, I was fortunate enough to be offered this internship opportunity."
As an M&A intern, Jessie helped Lucien to find and evaluate opportunities that fit with Jebsen & Jessen's M&A strategy. Her tasks included meeting intermediaries to generate deal flow, do financial evaluation for target companies and conduct market research to understand the industry dynamics.
"This internship helped me to find out my interest in M&A. As part of my role, I had opportunities to attend meetings with investment bankers, M&A consultants, and during these meetings, I was able to learn more about the M&A industry and the South East Asia market in general."
To shed more light on her experience as an intern at Jebsen & Jessen, we asked Jessie to share the key takeaways of her time working here.
What are the most memorable aspects of your internship experience?
Jessie: One of the most memorable aspects of my internship experience was having a wise and supportive supervisor. I had the privilege of learning valuable lessons from Lucien, particularly in terms of working efficiently. He emphasized the importance of setting clear timelines for all project participants, ensuring effective coordination and timely progress.
What made our interactions even more enriching was the stark contrast in our backgrounds and professional experiences. Each time I discussed a project with Lucien, I gained new insights and perspectives. I learned to look beyond financial data and ratios, gaining a deeper understanding of how businesses operate and generate profits.
Beyond the professional realm, my supervisor proved to be an approachable mentor. He willingly shared his own experiences and thoughts on topics such as family, career development, and future plans. This open dialogue created a supportive environment and fostered a sense of personal growth and development. Overall, the wisdom and guidance provided by Lucien, coupled with the opportunity to broaden my knowledge beyond the numbers, made this aspect of my internship experience truly memorable.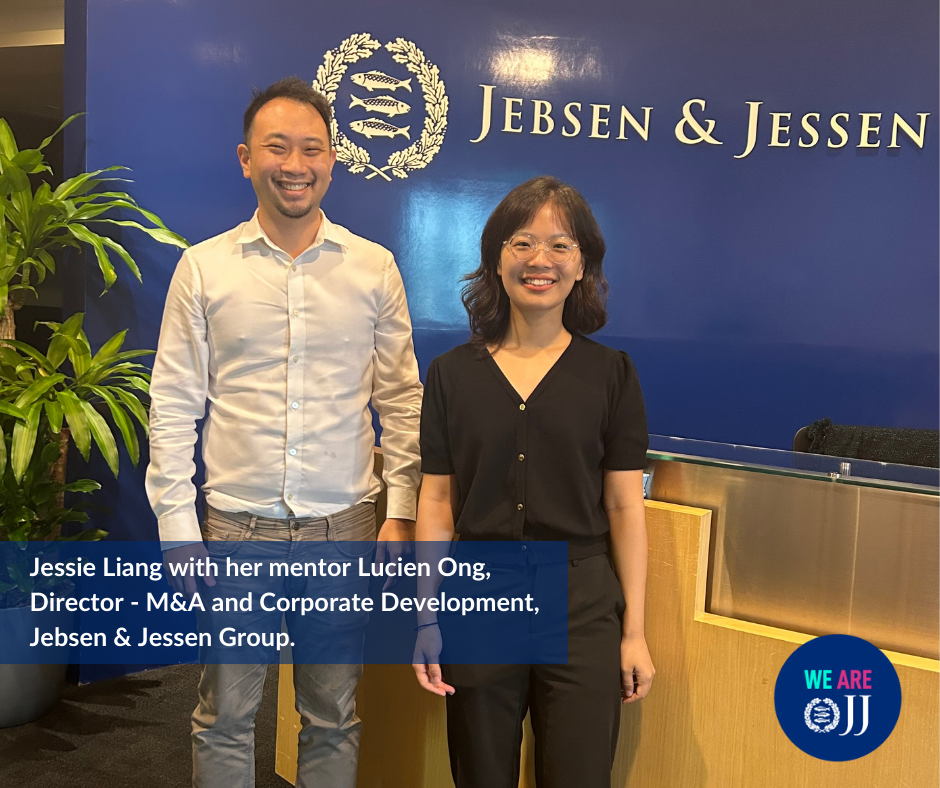 What have you learned about the culture at Jebsen & Jessen during your internship?
Jessie: During my internship at Jebsen & Jessen, I observed a culture that places a strong emphasis on its employees. It was evident that many staff members had been with the company for more than 20 years, which spoke volumes about Jebsen & Jessen's commitment to cultivating long-term relationships with its employees.
One notable aspect of the culture was the flexible working arrangement. Employees had the option to work a hybrid schedule, allowing them to work some days at the office and some days from the comfort of their homes. This flexibility shows that the company trusts its employees, provided a healthy work-life balance and contributed to a positive work environment.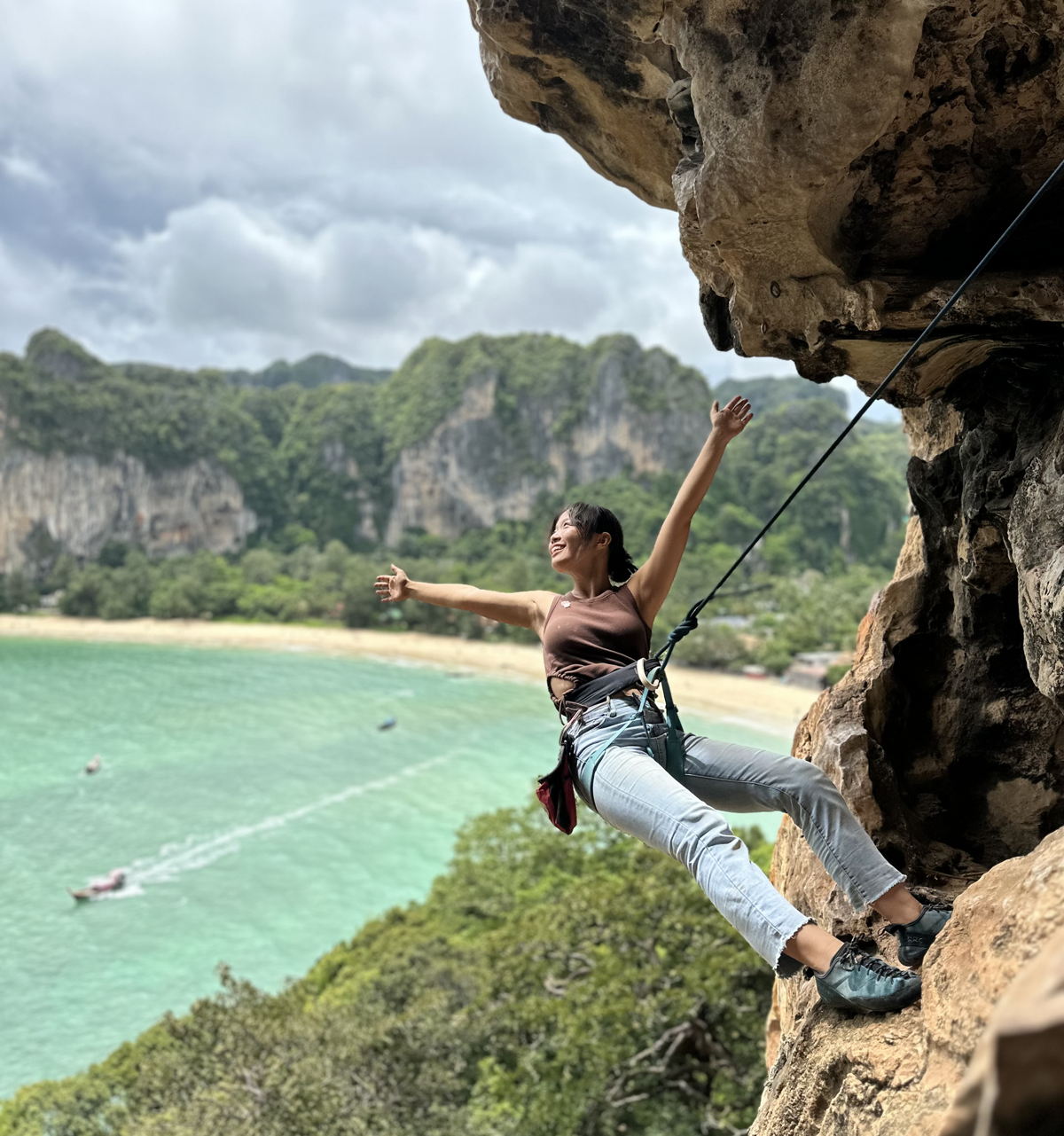 "Jessie brought a positive attitude and strong financial background, and she became a strong contributor to our M&A team. She will no doubt have a very promising career, and we wish her the very best" - Lucien Ong, Director, Corporate Development and M&A
At Jebsen & Jessen, we strive to provide added-value to our internship programmes. By cultivating a transparent and encouraging environment, we enable our people to grow and innovate.
If you're interested to find out more about what it's like to work at Jebsen & Jessen, follow our  LinkedIn, Facebook and Instagram!