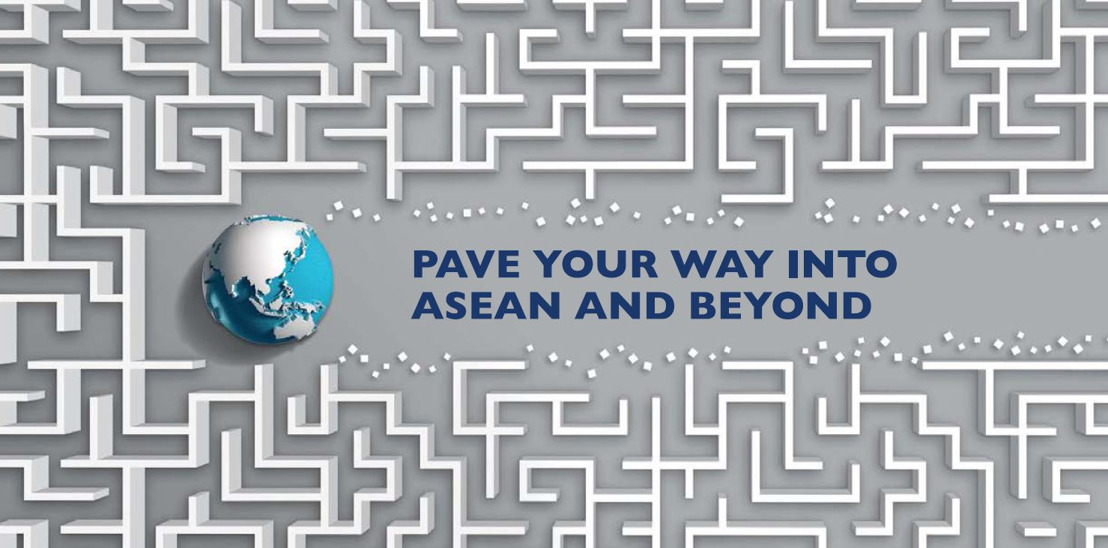 Investing in ASEAN
An interview with Heinrich Jessen, Chairman & Per Magnusson, Executive Vice Chairman,Jebsen & Jessen SEA in an article published in – Investing in ASEAN 2018/2019
Jebsen & Jessen SEA (JJSEA) has a long history in this part of the world. Tell us a bit about today's principal business activities of the group.
Per Magnusson (PM): We are an ASEAN focused industrial enterprise spanning manufacturing, engineering and distribution. We have seven core business units in Southeast Asia, namely:
JJ-LAPP Cable which specialises in the manufacturing and distribution of leading German cable technology. Equipping multiple industries with innovative cable solutions and timely access to more than 3,000 cables and accessories held in stock across a network of warehouses in ASEAN countries.

Jebsen & Jessen Ingredients which distributes 165,000 tonnes of specialty chemical and life science ingredients per year to multiple industrial and manufacturing applications. Serviced through a network of world-class, certified warehouses in nine countries, a regional hub in Thailand and eight technical laboratories, the team provides technical expertise and extensive product portfolios to help companies in creating better products and solutions to meet market demand.

JJ-Lurgi Engineering which offers up-to-date relevant technologies and engineering services in the oil & fats, oleochemicals and biodiesel industries through design solutions and optimising resource utilisation to create efficient processes that factor in the impact of the plant on people and the environment.

MHE-Demag which engineers, manufactures and services material handling products, including cranes, hoists, explosion proof lifting equipment, warehouse trucks, dock levellers, rail systems, car park systems, electrificationsystems and building maintenance units.

Jebsen & Jessen Offshore which specialises in electrical products and solutions for the international energy sector and is one of the world's largest stockists and distributors of offshore and marine cables.

Jebsen & Jessen Packaging which designs, manufactures and supplies a wide range of total packaging solutions from a variety of materials including foam, polypropylene, paper pulp, wood and PET

Jebsen & Jessen Technology which engages in the distribution of a range of industrial equipment and provides complete turn-key solutions for the dry bulk, industrial services, pumps, scientific equipment and turf & irrigation industries.
Does JJSEA's ranking as a long-standing family-owned business in the region give the group any advantages in the traditional societies that constitute so much of Asia?
Heinrich Jessen (HJ): I think because JJSEA is a unique family-owned business, which brings together the best of private management and family values, we are able to position ourselves as a sustainable and environmentally focused company that takes a long term approach in its activities.
We are focused on embedding our corporate values of Trust, Entrepreneurship, Prudence, Commitment and Partnership into the company culture – and this has served us well.
As with doing business in any part of the world, people must trust a company and business partner – and our history and the reputation we have built has helped us form strong and rewarding partnerships.
Our exceptional abilities to establish generation-long partnerships gives us the advantage. This is reflected in many of our 50:50 joint ventures, such as MHE-Demag (with Demag Cranes and Components), JJ-Lurgi Engineering (with Air Liquide Global E&C Solutions) and JJ-Lapp Cable (with Lapp Group Asia).
What characteristics have led to JJSEA's business longevity and success in the region?
HJ: We have an unrivalled understanding and appreciation of ASEAN markets and are able to leverage both back office and frontline economies of scale in our operations. We are able to deliver the same high value to our customers regardless of where they are located across the highly diverse markets of ASEAN.
A commitment to maintain a flat organisational structure and decentralised decision making, also ensures that all our businesses in the region can adapt to the diverse and different market needs quickly. We have invested in human capital and tools to develop our sales effectiveness, while building and sustaining a high performance corporate culture. We constantly work to enhance our back-office platform to ensure efficiency and effectiveness.
Broadly speaking we are focused on ensuring that a growth-oriented entrepreneurial spirit is allowed to thrive, while concurrently maintaining sound, conservative financial discipline.
The company has a long history of undertaking manufacturing, engineering and distribution activities in joint ventures with firms such as Lurgi, Demag, LAPP Cable and Muntons. Is the company looking at any new diversification within the region? If so, which areas are of interest and what parts of Southeast Asia?
PM: We are not a private equity firm and have a different approach. Opportunities usually emerge within the industries that our companies are already active in and will typically have complementary characteristics. It is generally not in new industries.
However, the objective remains clear, we aim continuously to move up the value chain, focusing to evolve our capabilities from agency distribution to local design, manufacturing and servicing.
We have been investing and acquiring companies that leverage our existing platform and competencies. We have acquired 14 businesses between 2010-2018. The most recent being a 50% stake in the ingredients business of our sister company Jebsen & Co in China and taking over the Phoenix Contact distribution activities in Thailand from ZI-ARGUS Ltd.
We also seek opportunities to grow organically. For example, we've invested in an Indonesian cable factory that we upgraded to produce not only for the Indonesian market, but for the whole region. Our ingredients business unit recently moved into manufacturing of malted ingredients, by forming a 50:50 joint venture with UK firm Muntons. The factory, located in Thailand, is serving customers throughout the region.
This is something MHE-Demag, our material handling business unit, has done for many years already. We are deeply involved in the whole value chain, and we also manufacture some products for our JV partner globally.
In terms of countries, ASEAN remains our priority and Indonesia is currently our key investment and growth country. We continue to focus on the ASEAN markets and constantly keep an eye on emerging opportunities for us to participate in.
How do you view the economic integration process in ASEAN and what effect is this development having on JJSEA's activities in the region?
HJ: We have come a lot further in terms of integration and connectivity within the region than if the ASEAN project had not started and while there is still a lot of work to be done, the AEC as it currently stands is already bringing benefits to all countries in the region. There are several examples in our own business where efficiencies have been created as a result of significant regional economic integration. Today, thanks to the AEC, we can produce our dock levellers, cables and malted ingredients in just one country and then efficiently and cost-effectively ship them to the other countries in the region.
Because each individual market can be small, but the region is big, we can share product specialists across regional markets – and leverage frontline competencies that companies without a regional presence are unable to do.
How does the company view the current economic environment within the region?
HJ: We believe there is a lot of opportunity in the region. All of ASEAN's economies are growing individually and the respective governments follow growth-oriented pro-investment economic policies. Given the diverse nature of our business portfolio we are able to seize specific opportunities in each country as well as common opportunities that span the entire region.
There is much talk of a fourth industrial revolution driven by new digital technologies. How is this new world playing into JJSEA's corporate business plan within the region?
PM: The fast technological changes open up for a range of new business opportunities that our entrepreneurial spirit is well suited for. We are already building automated cranes, robotic carparks and other advanced solutions for our customers. We are also keeping a close eye on AI, Internet of Things and machine learning.
Internally we have been investing in automation across our various businesses. For example, our malted factory in Thailand is almost fully automated and run by just a handful of specialised staff. We also leverage digital technology to drive our back-office efficiencies to enhance and drive our sales and support effectiveness.
The bulk of the company's business is located in Malaysia, Indonesia and Thailand but how are other parts of ASEAN such as Myanmar shaping up for future investment?
PM: Indonesia is a strategic focus and we are currently focusing much of our investment efforts in that country. For example, our Technology business unit recently started an ambitious Dry Bulk Handling business in Indonesia.
In the Philippines and Vietnam we see positive and strong growth markets and we are growing in these countries as well. In fact, we have started to build a new MHE-Demag factory in the Philippines, expected to be operational in 2019, in order to have the capacity available to maintain our #1 market position there. Meanwhile in Hanoi we invested in a second factory for Jebsen & Jessen Packaging, so as to support our continuing strong growth in Vietnam.
During the past couple of years Myanmar has been the fastest growing market for us, but it is starting from a small base and we are taking an opportunistic view here that allows us to invest in activities that go beyond our regional portfolio. This is done in partnership with our partner there, the SPA group.
When the conditions are right, we will occasionally seize opportunities that go beyond our home region of ASEAN. For instance, JJ-Lurgi has been supporting customers in China from a Shanghai based engineering office for more than two decades and we have built oleochemical plants in countries such as Turkey and the United States.
Similarly, a few years ago, our MHE-Demag business unit entered Taiwan and Australia and our ingredients business became active in China earlier in 2018, in partnership with our sister company Jebsen & Co.
What do you consider the main drivers for the region's development are going to be over the next few years?
PM: The Comprehensive and Progressive Agreement for Trans-Pacific Partnership (CPTPP), also known as TPP11 will be a big boost for the region, along with China's One Belt One Road initiative.
The middle classes of ASEAN will continue to grow and this will drive consumption and construction. Technology will play a big part as well, bringing more people into the financial system which will help break the poverty cycle and drive economic growth.