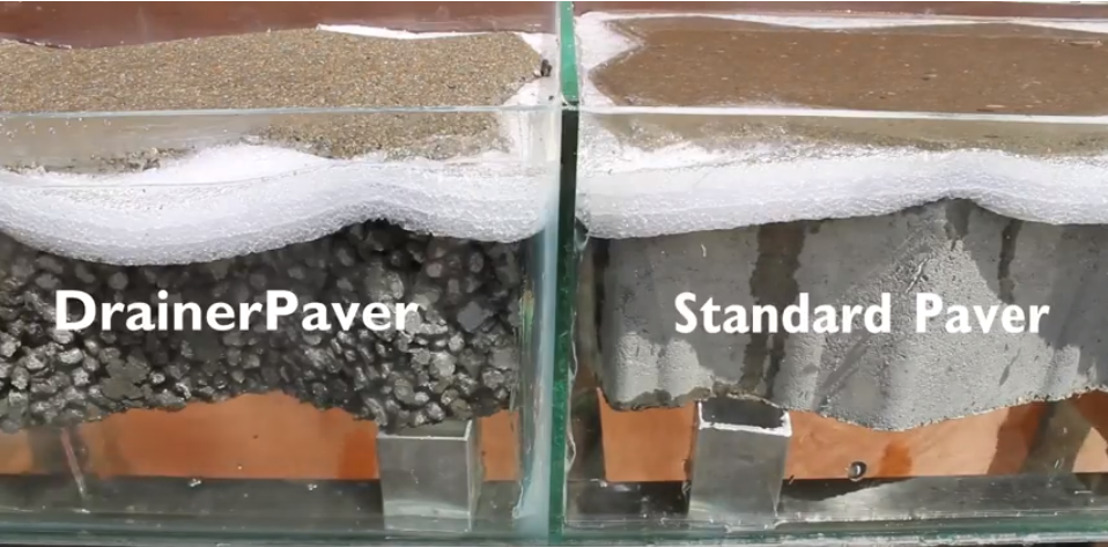 Jebsen & Jessen (SEA) Develops Low-Cost Permeable Paver to Alleviate Floods
Sandless Paver designed by JJ-Pun Tiostone joint venture helps cities lower flood risks
Singapore/Myanmar 14 March 2018: Jebsen & Jessen (SEA) and its joint venture partners Serge Pun & Associates and Tiostone have developed a new pervious paver with a permeable base that can reduce stormwater runoff. The DrainerPaver is designed to be both durable and cost-effective, helping alleviate floods and complementing expensive drainage infrastructure. Developed for Myanmar which faces regular floods due to heavy rainfall, on-going drainage networks construction and high levels of garbage choking the sewage system, the DrainerPaver is designed to be adaptable and useable across various areas such as driveways, parking lots and patios.
"The permeability of the DrainerPaver enables rainwater to seep through naturally," says Christian Heugas, General Manager, JJ-Pun Tiostone. "This is important on two levels - it prevents water from pooling and leading to floods, and it allows rainfall to seep into the ground - replenishing groundwater aquifers in the city."
Replenishing groundwater aquifers is essential particularly in Asia's growing urban centres. Depleting aquifers is resulting in cities like Bangkok and Jakarta sinking and needed water supply is salinized as sea-water seeps through to empty aquifers. Access to freshwater is a key concern for cities and countries, and utilising cost-effective pavers like the DrainerPaver can help minimise flooding, retain water supply and help cool urban temperatures.
"The use of low-cost permeable pavers is also a cost-effective and non-intrusive way to help cool the temperature of urban and populated cities, as they mimic and complement how natural green landscape absorb rainfall which helps moderate the tropical heat," continues Heugas.
The DrainerPaver was developed after extensive research by JJ-Pun Tiostone and innovatively designed to be made without sand. This reduces the need for a resource that is growing scarcer and the DrainerPaver is proudly made in Myanmar.
"We are excited to be able to bring together modern technologies, systems and products to create innovative products like the DrainerPaver that is applicable to Myanmar," said Alexander Spitzy, Managing Director of JJ-Pun. "Heavy rainfall, poor drainage systems and a significant amount of garbage in the sewage cause flooding on a regular basis - and storm water runoff systems are of immense importance to ensure a better living environment."
A study commissioned by the Asian Development Bank estimated about 245 million urban Asians were at risk from inland flooding, and the projected number will rise to 341 million in 2025.[1] The benefits of this pervious paver can thus be replicated in other Asian cities, especially in the rapidly developing ASEAN countries.
Benefits of JJ-Pun Tiostone DrainerPaver:
Minimize the impact of heavy rainwater


Slip resistant


Environmental friendly


Maintain base flows in rivers to keep ecosystems self-sustaining


Combat soil erosion


Reduce water use for landscaping


Durable and strong as our other high-strength pavers


Easy to maintain or to repave


Cost effective
[1] Source: Key Indicators for Asia and the Pacific 2012, by the Asian Development Bank

Anthea Ho Manager - Corporate Communications, Jebsen & Jessen (SEA)