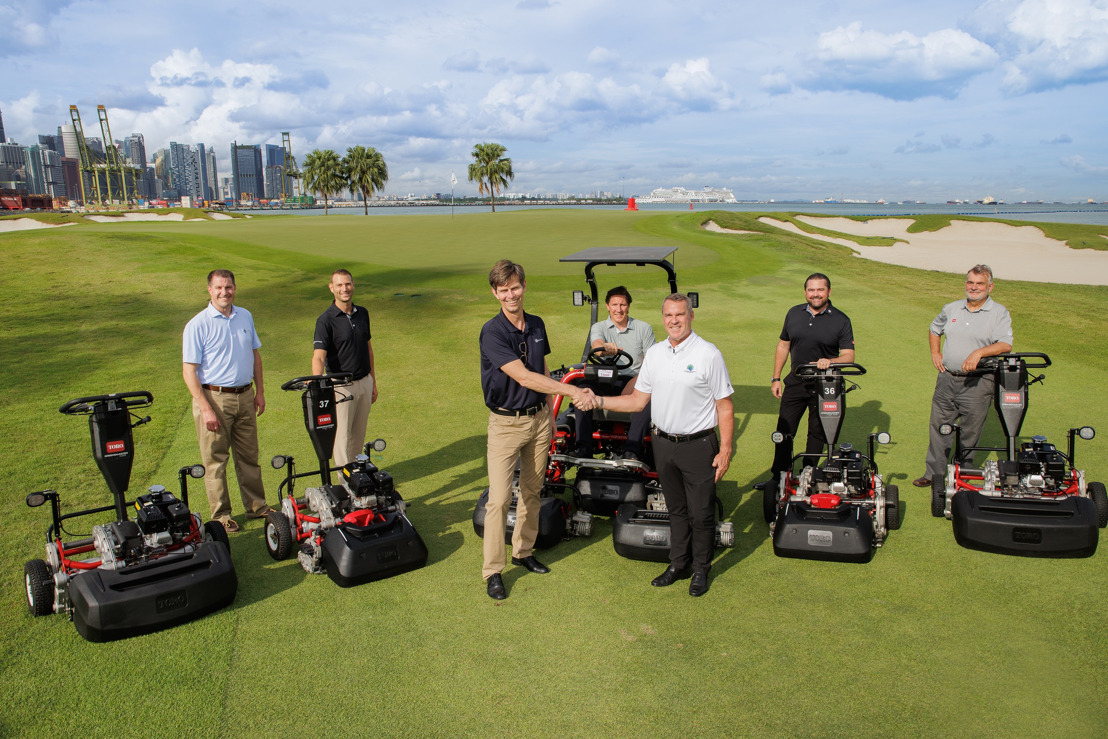 Jebsen & Jessen Technology – Turf & Irrigation announces major projects with leading golf clubs across South East Asia
These partnerships further showcase JJ T&I's expertise in turf care and landscaping technology, further reinforcing its presence in the region as the preferred business partner
Singapore, 30 June 2022 – Jebsen & Jessen Technology – Turf & Irrigation (JJ T&I), a division of the Technology business unit of diversified industrial conglomerate Jebsen & Jessen Group, has further cemented its presence in the region through major collaborations and partnerships with leading golf clubs in Singapore, Vietnam, and Indonesia.
In Singapore, JJ T&I gained a major vote of confidence from the world-renowned Sentosa Golf Club, as their long-standing relationship was marked by a new 10-year partnership in March 2022 – the first partnership in South East Asia of such scale. JJ T&I, as the official distributor of The Toro Company, will support Sentosa Golf Club's mission to provide a world-class playing experience, through the supply of hybrid and electric equipment and water-saving irrigation systems. These will also complement the club's commitment to its sustainability goals, with a pledge to be the world's first carbon-neutral golf club by 2022.
In Ha Nam, Vietnam, JJ T&I will be supplying and installing the irrigation systems for the new 36-hole Rose Canyon Resort, designed by Nicklaus Design and developed by BRG Group. Alongside Toro, JJ T&I will be supplying the irrigation systems and providing irrigation installation services for the South course, which is expected to be completed in late 2022. Work on the North course will begin as soon as the South course has been completed.
Other new projects awarded to JJ T&I in Vietnam include the Golden Sands Golf Resort in Hue. The turnkey project is estimated to be completed within the second quarter of 2023, and JJ T&I will be handling all stages of the project, from supplying irrigation systems and materials to providing installation services.
JJ T&I was also awarded a contract in February 2022 by PT. Bogor Raya Development's Klub Golf Bogor Raya, one of the most prestigious golf courses in Bogor, Indonesia, for the supply of golf course equipment. JJ T&I provided steadfast support for Klub Golf Bogor Raya in times of need, providing much-needed turf maintenance units after a fire damaged the premises. Klub Golf Bogor Raya was hosting a golf tournament the same day and the maintenance units supplied, which included lawn mower units, allowed them to maintain the golf courses and ensure the highest quality of standards for gameplay.
"JJ T&I is dedicated to providing high-quality expertise and end-to-end solutions to meet all turf care and landscaping needs. We are proud that these golf clubs have put their trust in us and recognise the value that we provide, furthering our position as a leading full-service solution provider in the Southeast Asia region," said Philipp Hoffmann, Regional Director of JJ T&I.
About Jebsen & Jessen Technology Turf & Irrigation
Jebsen & Jessen Technology – Turf & Irrigation is a division of the Technology business unit of diversified industrial conglomerate Jebsen & Jessen Group. Equipped with over two decades of expertise within the team, we provide total solutions in turf care and horticulture management for golf courses, parklands, stadiums and other public facilities throughout South East Asia. Our products range from turf maintenance equipment, buggies and utility vehicles to sprinkler systems and fertilisers. With complete service, warehousing and distribution facilities in the region, we are well equipped and ready to adapt swiftly to local requirements.
Beyond distribution, we offer a full service, including after-sales support, spare part supply chain, training and commissioning. We also offer a dedicated turf & horticultural management service, providing consultancy and training.
For more information, visit us at www.turftech.jjsea.com.