Jebsen & Jessen Technology Turf & Irrigation unveils new website
Visitors can now enjoy a more intuitive and convenient browsing experience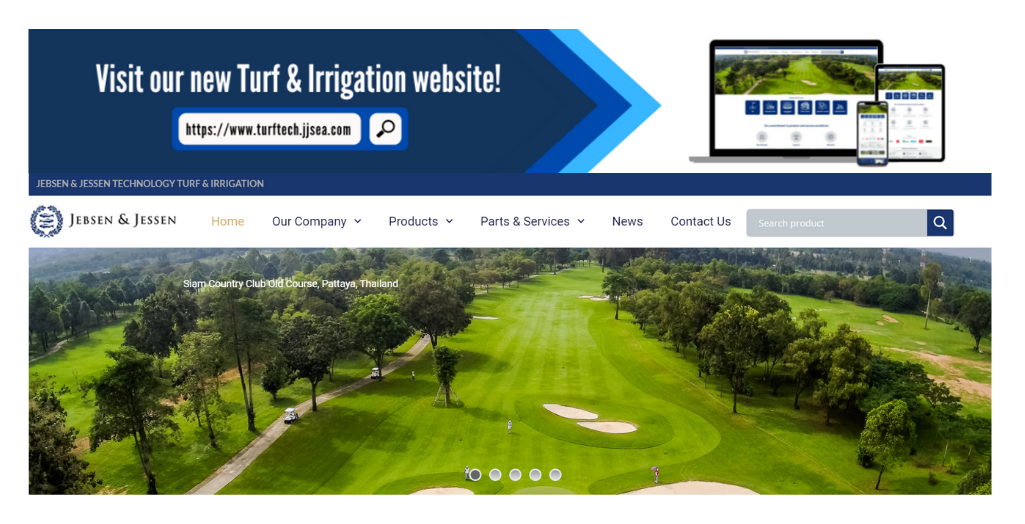 Singapore, 8 October 2021: Jebsen & Jessen Technology – Turf & Irrigation, a division of the Technology business unit of diversified industrial conglomerate Jebsen & Jessen Group, has launched its new website. Created with user experience in mind, the newly designed website includes several features to help users easily navigate and browse for information on the latest turf and landscaping solutions and services.
In addition to the improved look and feel, the website is intuitive and responsive, and its simple-to-use interface enhances user experience on both desktop and mobile. Navigation has been improved so that visitors may find the information they need quickly within a few clicks.
Welcoming the launch, Marc von Grabowski, Regional Director for Jebsen & Jessen Technology – Turf & Irrigation, commented, "We are committed to providing maximum value to our customers and partners across South East Asia. Therefore, it is absolutely imperative that we have a website that delivers the services customers expect. Upgrading our web platform is part of our regular efforts to ensure that we deliver our best to customers on every front, reflecting our value and strength as a leading provider of comprehensive turf and landscaping solutions."
The new website includes the following key features:
Area-specific filters that make it easier to search for products within each sector
A contact form with which customers can contact us quicker and tell us exactly what they need
A mailing list subscription form allows our customers to easily sign up for the latest information
"Turf & Irrigation is a core part of Jebsen & Jessen and a market leader in the industry. Intuitive and easy to use, the new website enables customers and partners to get the information they need quickly. This update demonstrates the organisation's ongoing investment in the business and positions us for future growth," said Per Magnusson, Group Chief Executive Officer of Jebsen & Jessen.
To visit the brand-new website, visit https://turftech.jjsea.com.