JJ-LAPP and Trina Solar Embark on a New Partnership
JJ-LAPP and Trina Solar Sign Strategic Cooperation Agreement, Forecast Doubling of Southeast Asia Business in 2023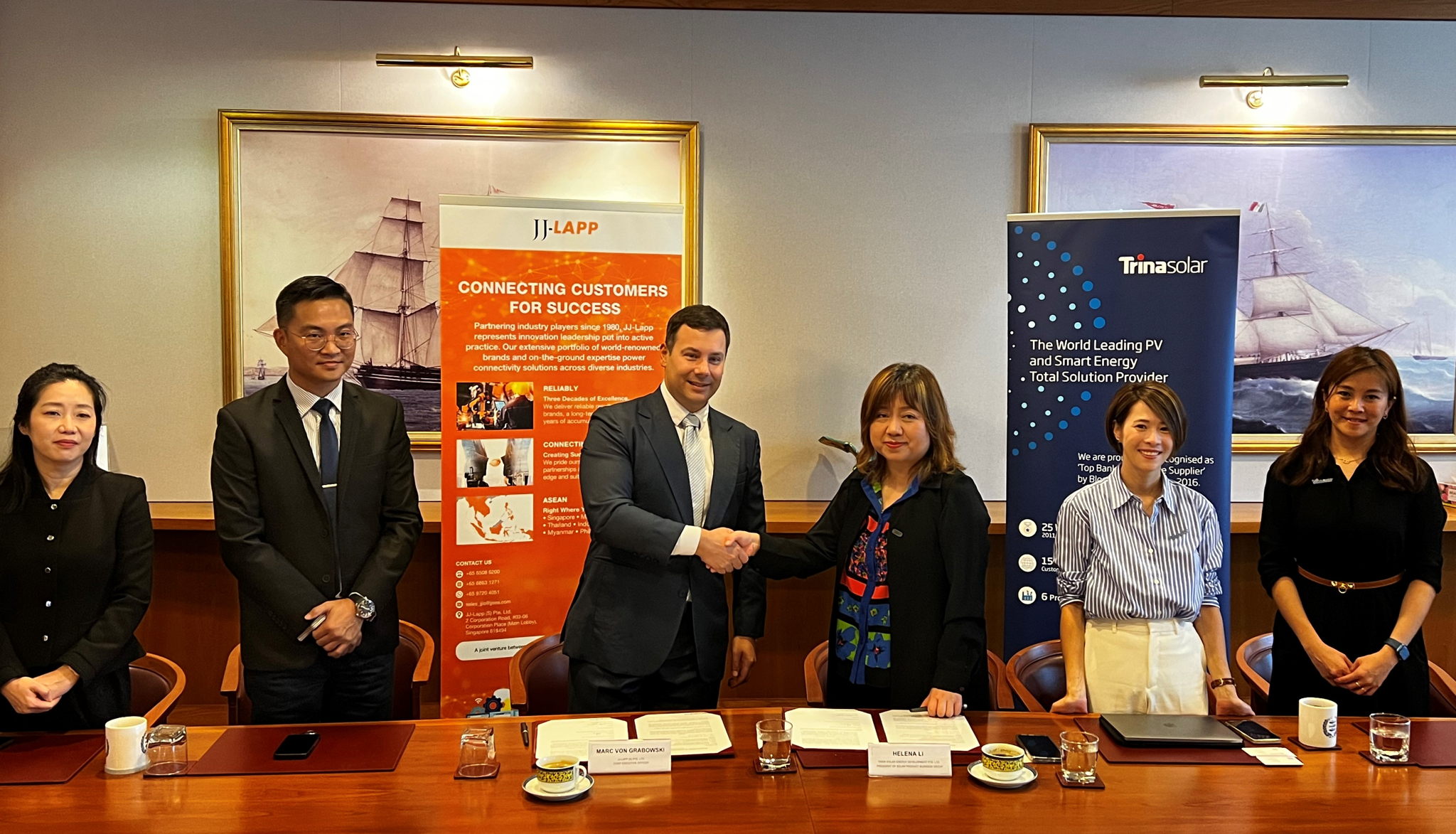 SINGAPORE, 22 February 2023 - JJ-LAPP, a joint-venture between Jebsen & Jessen Group and LAPP Holding Asia, and Trina Solar, a leading global PV and smart energy total solution provider, have signed a memorandum of understanding (MOU) covering strategic cooperation, and foresee tremendous demand in Southeast Asia for solar energy.
JJ-LAPP and Trina Solar agree to jointly develop solar PV projects in South East Asia for the benefit of customers in the commercial, industrial (C&I) and utility-scale segments of the solar market.
Trina Solar provides solar modules, trackers, supervisory control and data acquisition (SCADA) systems and other products required for C&I and utility-scale installations.
Meanwhile, JJ-LAPP provides other types of products required for solar installations – such as AC and DC cabling, connectors, etc – that are also critical and help to lower the solar project's overall balance of system (BOS) cost.
The two companies have previously worked together on solar projects in South East Asia, particularly in Indonesia, Philippines, and Thailand. . For example, they have worked on many rooftop installations in Indonesia as well as a 6.28MW project for an Indonesian solar energy developer. In the Philippines, JJ-LAPP and Trina Solar have been working on rooftop installations for a furniture retailer that has a number oflarge stores throughout the country. Each rooftop commercial installation is 120-300kW.
JJ-LAPP and Trina Solar first started working together in Singapore in 2020.Since then, the partnership has expanded throughout South East Asia. Under the new MOU, which was signed today in Singapore and comes into immediate effect, JJ-LAPP anticipates that the amount of solar modules ordered from Trina Solar this calendar year will more than double from last year's 21MW.
The CEO of JJ-LAPP, Marc von Grabowski, says: "The solar segment is of strategic importance to JJ-LAPP. It is a privilege to find another committed partner in Trina Solar and work on our shared ambition to provide reliable solar power to the South East Asian region. Over the past years, we have experienced - not only the quality products of Trina Solar as part of the JJ-LAPP solar system bundle - but also appreciate their professional support along the way."
The Regional Head for Renewable Energy at JJ-LAPP, John Hng, adds: "Alone we can only do so much, but together we can do so much more."
Todd Li, President of Trina Solar Asia Pacific, says: "Trina Solar will maintain its leadership and meet the increasing market demand for high- performance PV modules. Working together can deliver a lower BOS cost, because JJ-LAPP and Trina Solar account for the bulk of the hardware that goes into a solar installation. We can also help to reduce manpower costs for the customer's project by coordinating our efforts and delivering greater efficiency in work processes."
Under the new MOU, JJ-LAPP and Trina Solar have also agreed to support each other on operation and maintenance of solar installations. This helps customers' projects to achieve lower lifecycle costs. Lowering the cost of operations and maintenance over the life of a solar installation is critical to achieving further lowering of the LCOE.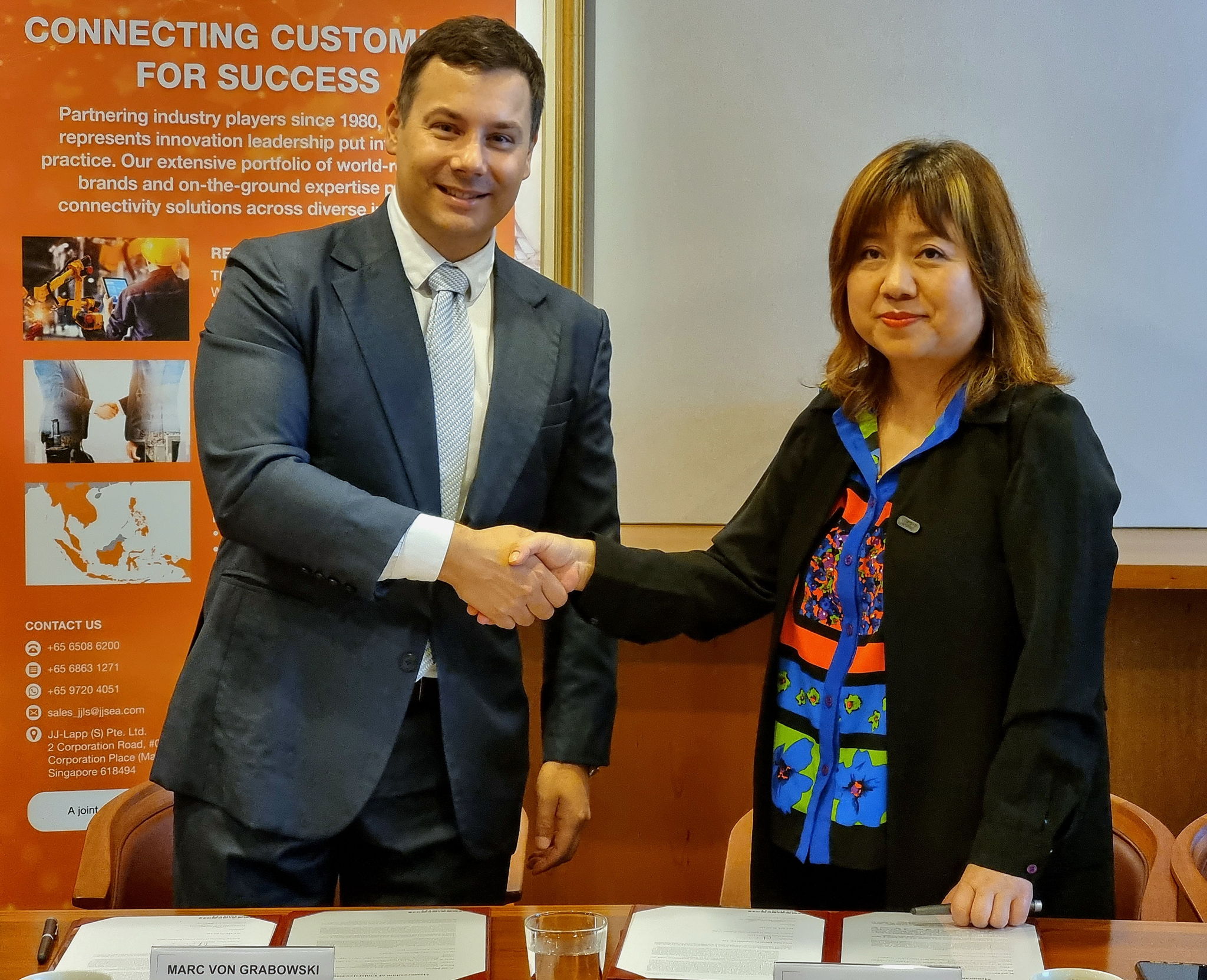 About Trina Solar (688599. SH)
Founded in 1997, Trina Solar is the world leading PV and smart energy total solutions provider. The company engages in PV products R&D, manufacture and sales; PV projects development, EPC, O&M; smart micro-grid and multi-energy complementary systems development and sales, as well as energy cloud-platform operation. In 2018, Trina Solar launched its Energy IoT brand, established the Trina Energy IoT Industrial Development Alliance together with leading enterprises and research institutes in China and around the world and founded the New Energy IoT Industrial Innovation Centre. With these actions, Trina Solar is committed to working with its partners to build the energy IoT ecosystem and develop an innovation platform to explore New Energy IoT, as it strives to be a leader in global intelligent energy. In June 2020, Trina Solar listed on the STAR Market of Shanghai Stock Exchange. For more information, please visit www.trinasolar.com.
Trina Solar media contact:
Mr. LIU Zhen, Regional Marketing Manager, Asia Pacific Region
Tel/Cell: ​ +65 6808 1111
Email: ​ ​ [email protected]
About JJ-LAPP
JJ-LAPP was founded as a joint-venture between Jebsen & Jessen Group and LAPP Holding Asia Pte Ltd, a subsidiary of LAPP Group in Germany, to become the leading cable and connectivity solutions provider in ASEAN. We bring value to our customers by localising German innovation, manufacturing and array of our high-quality products in Indonesia, and complementing this with a suite of products sourced from world-renowned brands. This enables us to provide a wide range of solutions that maximises return on investment for our customers.
Serving across ASEAN, our team is committed to building trust-based partnerships with our customers and helping them achieve the business success they desire. We are proud to have served the Building Automation, Industrial Automation, Renewable Energy, Original Equipment Manufacturer, Transportation, and Automotive sectors with cable and connectivity solutions since 1980.
For more information, visit https://www.jj-lapp.com/