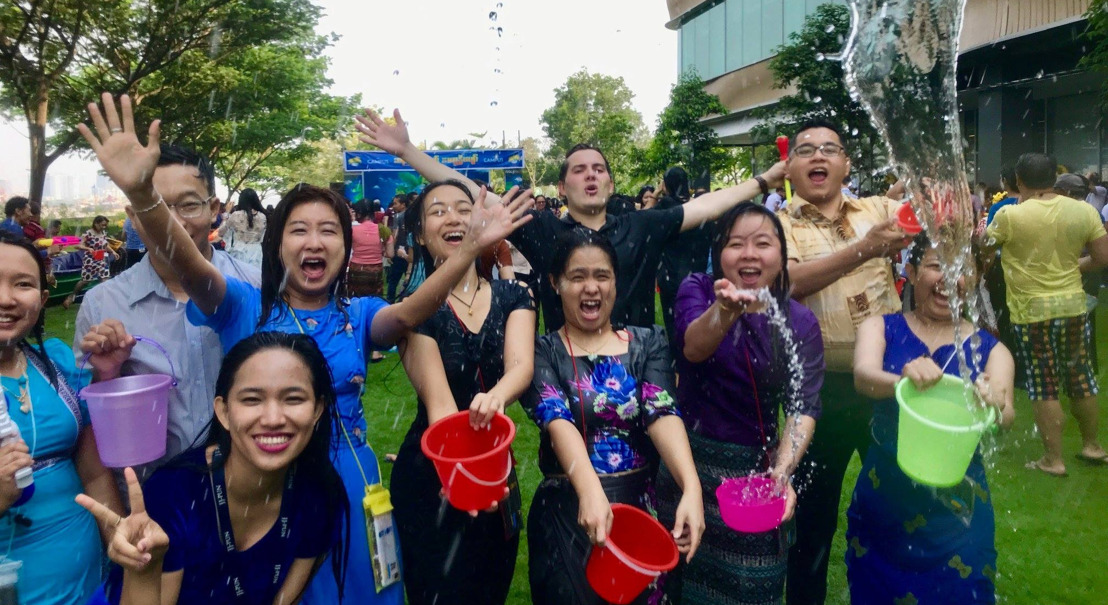 Make a Splash!
Water, floral shirts, music, and flowers… Here's how our colleagues around the region enjoyed a fantastic Water Festival celebration in the office.
Don't you just love this time of year? April 2019 was a month with a slew of special happenings—the release of K-pop group BlackPink's record-smashing new song, "Kill This Love", the global premiere of the highly-anticipated Marvel superhero blockbuster Avengers: Endgame. When these turn the heat up, we cool off with everyone's favourite Water Festival!
First of all! What is Water Festival?
Well! Water is of course the core element of this regional celebration. Every year, from April 13, the Water Festival marks the start of the Buddhist New Year. It is celebrated in, Cambodia, Laos, Myanmar and Thailand, with people flocking to the streets to take part in wide-ranging water fights!
The festival also sees us performing rituals in a healthy and still water-soaked fashion to show respect for and seek blessings from our ancestors, elders and Buddha. It's also a time to wear bright floral shirts! This is the unofficial dress code not unlike how you would wear green on St Patrick's Day.
Songkran in Thailand
In Thailand, the Water Festival is known as Songkran. Our colleagues from Jebsen & Jessen Business Services and Jebsen & Jessen Ingredients in Thailand celebrated it in a traditional way with palm watering and seeking blessings (Rod-Nam-Dum-Hua) from the senior management. The pure water was infused with lovely Thai perfume sprinkled with flower petals.
"Participating in the Rod-Nam-Dum-Hua ceremony was a great way to experience Thai culture and ring in yet another new year. It was fun to dress up in Hawaiian shirts and a great opportunity to pay respect to and get blessings from our senior management," said Pierre Courso, Regional Project Coordinator of Jebsen & Jessen Ingredients.

Thingyan in Myanmar
Over in Myanmar, where the festival is called Thingyan, celebrations lasted five full days! It kicked off on April 13 and ended on April 17, with the first four days dedicated to throwing water and the last, commemorated as the Buddhist New Year's Day.
Our colleagues in JJ-Pun celebrated an early Thingyan Water Festival at The Campus in Yangon on April 5. All business entities and joint venture companies participated in this event. Our colleagues soaked each other with buckets of water in celebration. It's beautiful in its own way because you can see how much fun everyone's having.
Markus Nielson, who experienced their first Thingyan this year, had this to say: "The Thingyan festival was a new experience. The intensity of the celebrations, and the fact that such intensity was maintained over five days, was impressive. The festival's emphasis on water and music makes it very different from the other celebrations I have seen." – Intern Markus Nielson
Choul Chnam Thmey in Cambodia
Choul Chnam Thmey is the Khmer New Year. The celebration is a little different in Cambodia, with some water splashing happening on the streets, but nothing compared to what goes on in Thailand and Myanmar, for example. Even so, the Khmer New Year can still be called a 'Water Festival' in that it resembles the New Year parties in neighbouring countries in so many other ways. Interestingly, there is actually another big festival in Cambodia that includes water splashing, but this takes place in November and focuses on traditional boat racing.
"This is a happy and precious time for us to gather with family and friends to laugh and share with one another," said Department Manager, Finance and Admin, Malinda Run. For her, what makes the Khmer New Year special is the opportunity to wash her elders with perfumed holy water once in a year in a show of respect.