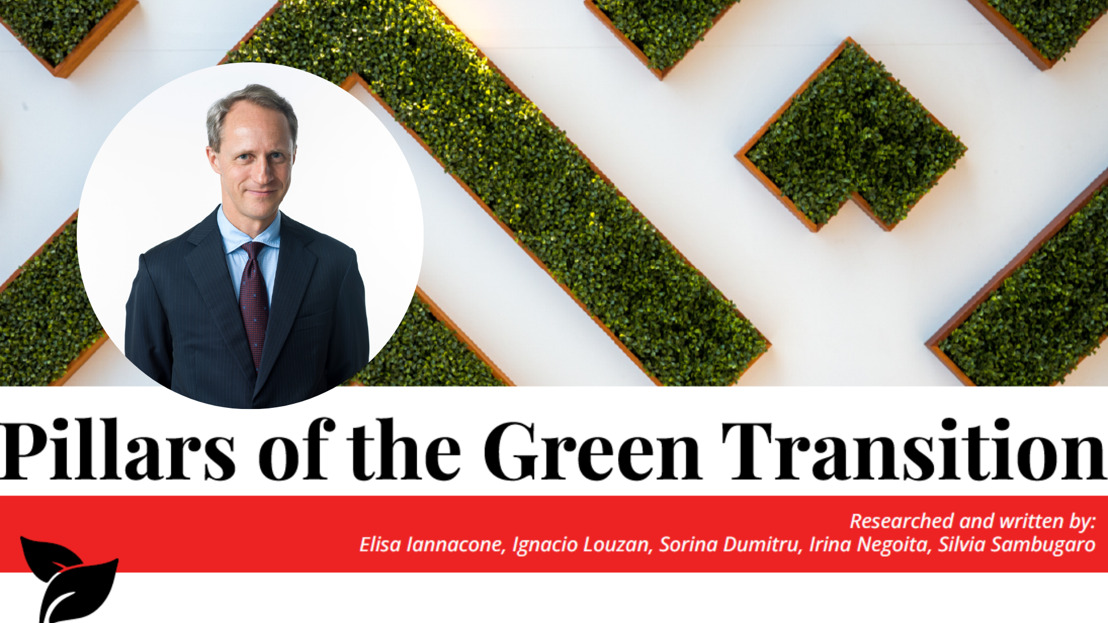 'Pillars of the Green Transition 2022' Report: Exclusive Interview with Heinrich Jessen
In this Newsweek report, Heinrich Jessen and other leaders from North America, Europe and Singapore discuss how they are spearheading the green transition through technology, innovation and the will to be a part of the circular economy.
Could you tell us a little bit about your personal journey prior to taking on the helm of Jebsen & Jessen Group?
Jebsen & Jessen is a family enterprise in the third generation. My grandfather, Heinrich Jessen and his cousin, Jacob Jebsen started a trading company in Hong Kong in 1895. It eventually expanded into South East Asia in the 1960s and evolved from trading other people's products to producing our own. We started building factories, and engineering and designing some of those products that we were selling.
I completed my Bachelor Degree in Environmental Studies, specifically in Tropical Ecology. My first job was as a field assistant in a tropical rainforest in Papua New Guinea. Then, at some point, I became interested in the family business, so I chose to speak to my father about implementing an environmental programme to reduce or at least manage our impact on the natural environment, and he thought it was a good idea. I then completed a Master's Degree in Industrial Environment Management, and officially joined Jebsen & Jessen in 1995.
Can you describe Jebsen & Jessen's journey into sustainability and how you addressed this so early on within the ASEAN region?
In terms of environmental sustainability, we began our journey by setting out to understand our impact and cleaning up our own 'backyard'. In the 90s in South East Asia, this was really some pioneering work. In a global context however, I would say it was parallel to others' targets and processes. We developed a tool here in Singapore, together with a UK consultancy and a number of other Singapore companies to measure our carbon footprint. We also hired someone with the sole objective of identifying ways to reduce our carbon footprint. By 2012, we were committed to offsetting and became the first carbon-neutral industrial group in South East Asia.
What do you believe needs to happen in order for the world to truly start meeting green targets?
This is the cardinal question because most people realise what needs to be done, and yet it is not happening. I believe this is where the interplay between consumers, industries and governments needs to be examined and strengthened. It feels like each player is waiting for the other one to act. Back in the day, there was no government in any of the countries in which we operated that was giving us credit for being carbon neutral; we did not get a tax break or cheaper energy for example. At the same time, there were no customers who said, ''I am choosing you for this order because you are carbon neutral".
"We need governments to set the stage to make it a level playing field for everybody who's trying to make an effort."
This means ensuring that companies are not paying more to be responsible; rather there should be a disincentive for companies that do not step up. When it comes to industry, nobody likes paying taxes, but if we could have a carbon tax in the different countries here in South East Asia, I would highly welcome that. Consumers also need to start making thought-out choices when it comes to their purchasing power. We all need to work in tandem with each other.
Where is Jebsen & Jessen experiencing core growth?
Within the context of sustainability, we are having a boom in renewable energy demand in South East Asia, and are fortunate to have some core products for this transition, particularly in JJ-LAPP, our cable technology joint-venture. We are making strategic decisions to capitalise within this industry, but also within Jebsen & Jessen Packaging, where customers are becoming increasingly interested in dematerialisation. For example, we now have bottle tops that are half the height of what they used to be, are 35% lighter and thus use less material. In Jebsen & Jessen Ingredients, we focus exclusively on distribution, but work on promoting better products. When it comes to personal care, like body scrubs, many products used to have plastic microbeads, for example. This was banned in Europe, but not here, so we were pleased when we managed to 'convert' one of our customers to using a silica alternative for their body scrubs. Our group can impact sustainability in the region by consciously selecting and promoting products that have a lesser environmental impact.
How do you select partners and are you actively looking for them?
Partnerships represent one of our five core values. Ever since we started as a group, partnerships have been what we thrive on. Traditionally, a partner had a product we would bring to market in the region. Today, our partnerships range from distribution to contract manufacturing. We also have joint-ventures and co-branding strategies, where we produce products on behalf of our partners.
Do you have a final message for Newsweek's international readers?
After we became carbon neutral, we supported our sister groups in pursuing that same objective, which has had quite a transformative effect. The next step will fall within the scope of innovation of the products and services we offer. When it comes to GHG emissions, we look at Scopes 1 and 2 because we can measure these easily. If every company offset even just the emissions of their own operations, the world could become carbon neutral, and it does not have to cost very much; I think there are many companies out there that could easily do it.
~ Originally published by Investment Reports, content provider for Newsweek.