RACING AGAINST AVOIDABLE BLINDNESS WITH ORBIS
The event was organised to increase awareness of the challenges facing the visually impaired and raise funds for Orbis's global sight-saving work.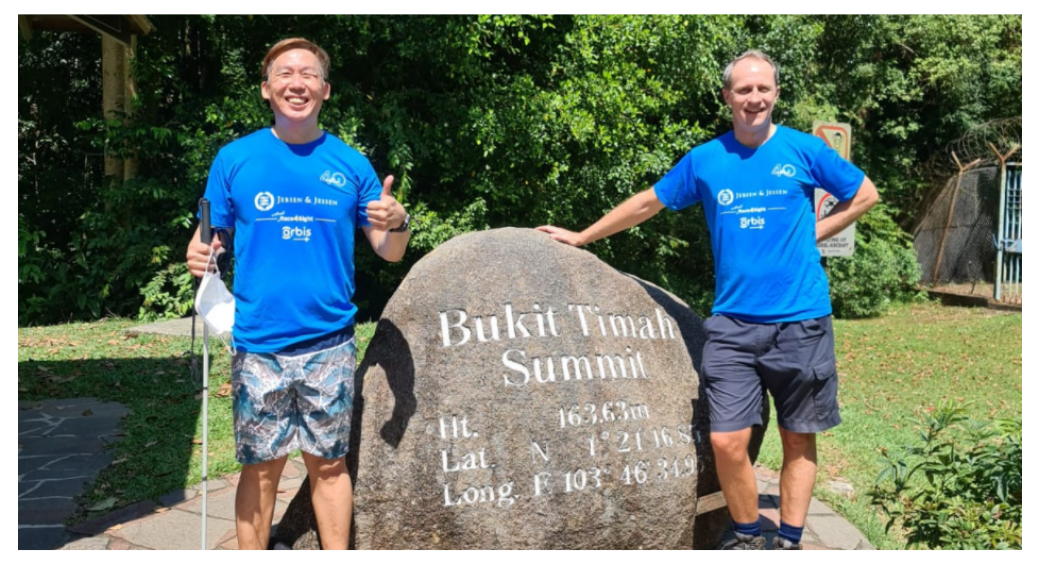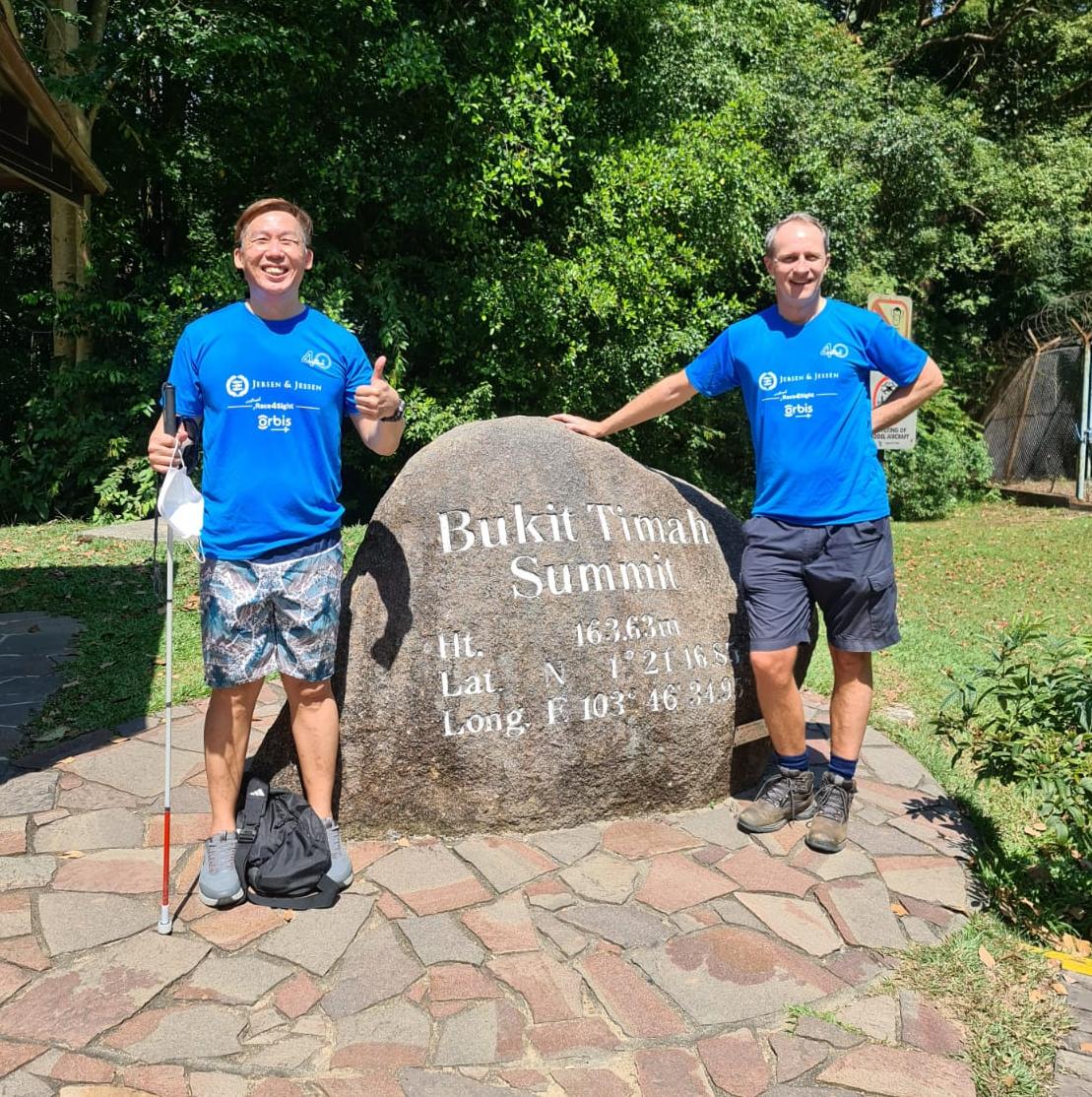 Singapore. October 13, 2021 – Orbis Singapore, an international charity that prevents and treats avoidable blindness, is pleased to report a successful global partnership with Jebsen & Jessen for the Jebsen & Jessen-Orbis Virtual Race4Sight that was wrapped up just before World Sight Day held on 14 October. 
Standing in solidarity against avoidable blindness and to raise awareness for the worthy cause, members of the public in Singapore joined nearly 1,000 other participants from Europe, the US and Asia Pacific to kick off a 40-day challenge on 3 September 2021, to walk and run 100km or cycle 500km in the run-up to World Sight Day. 
Throughout the 40 days, supporters in bright blue T-shirts were spotted around the island as they walked, ran and cycled to spread the message on the importance of good eye health on social media. In total, nearly 191,300 km was recorded by our 250 local supporters, adding to the aggregate of 504,700 km completed by supporters worldwide. 
Prevention of blindness and outdoor exercise are intimately linked in both the young and old. For example, In Singapore alone, an estimated 1,000,000 people are expected to suffer from diabetes by 2050 – and diabetic retinopathy can lead to blindness if left undiagnosed and untreated. Eating healthy and exercising regularly are ways to aid diabetic control and prevent diabetic retinopathy. More outdoor time for children and exercising have shown that myopia can reduce and positively impact physical and mental health. ​ 
The Jebsen & Jessen-Orbis Virtual Race4Sight not only gave supporters in Singapore a reason to keep up with a regular exercise regime, it also allowed them to learn more about the daily challenges facing those with visual impairment. 
In a demonstration of inclusivity, several Jebsen & Jessen employees participated as volunteers and paired up with visually impaired participants to be their 'eyes' as they walked in the beautiful garden city of Singapore. 
"Jebsen & Jessen is proud to be supporting Orbis in its initiatives to prevent avoidable blindness. The fact that our team members were able to participate personally made it all the more meaningful. It was also a privilege for me to walk with Orbis Ambassador Bernard Chew at the Singapore Bukit Timah Hill, and learn more about the challenges faced by persons with visual impairment and how the community can contribute towards Orbis's outreach and sight-saving initiatives," said Mr Heinrich Jessen, Chairman of Jebsen & Jessen Group. 
"The generous sponsorship from corporates and individuals for our Race4Sight will enable our non-profit organisation to continue to grow our simulation training through our Cybersight and virtual Flying Eye Hospital projects around the world," said Stuart Dean, Chairman of Orbis Singapore. "I am very grateful to our donors especially during such extraordinary times, and am very happy to see our supporters take this opportunity to stay healthy and keep themselves fit." 
---
About Orbis Singapore 
 Orbis Singapore is an affiliate of Orbis International, a global non-profit organisation that brings people together to fight avoidable blindness, restore vision and help ensure no one loses their sight to a preventable, treatable disease. Using its unique tools – over 400 expert medical volunteers, the world's only Flying Eye Hospital, now conducting virtual programs, and an online telemedicine training and consultation platform, Cybersight – Orbis equips eye care professionals in countries with the greatest needs with the skills, resources and knowledge to deliver high-quality eye care to their own people. In collaboration with a global network of local partners, including hospitals, universities, government agencies and ministries of health, Orbis creates long-term, sustainable eye care solutions by providing hands-on ophthalmology training, strengthening healthcare infrastructure and advocating to make eye health a priority. For more information visit sgp.orbis.org. 
 About Jebsen & Jessen Group 
We are an ASEAN focused industrial conglomerate. Our business spans manufacturing, engineering, and distribution activities. 
We have five core business units: Cable Technology, Ingredients, Life Sciences, Packaging and Technology. Through our network of companies spanning 31 locations, including 10 manufacturing facilities in Cambodia, China, Indonesia, Malaysia, Myanmar, Philippines, Singapore, Thailand and Vietnam, our 3,000 people work as one to develop meaningful products and services for the 20,000 customers we serve. As the first industrial company in South East Asia to achieve 100% carbon neutrality in 2011, we are committed to creating sustainable businesses to minimise environmental impact. 
Our corporate social responsibility programme, Meet a Need, was launched in 2007 to combine hands-on corporate volunteering with funding for projects that meet specific social or environmental needs in the communities around us.