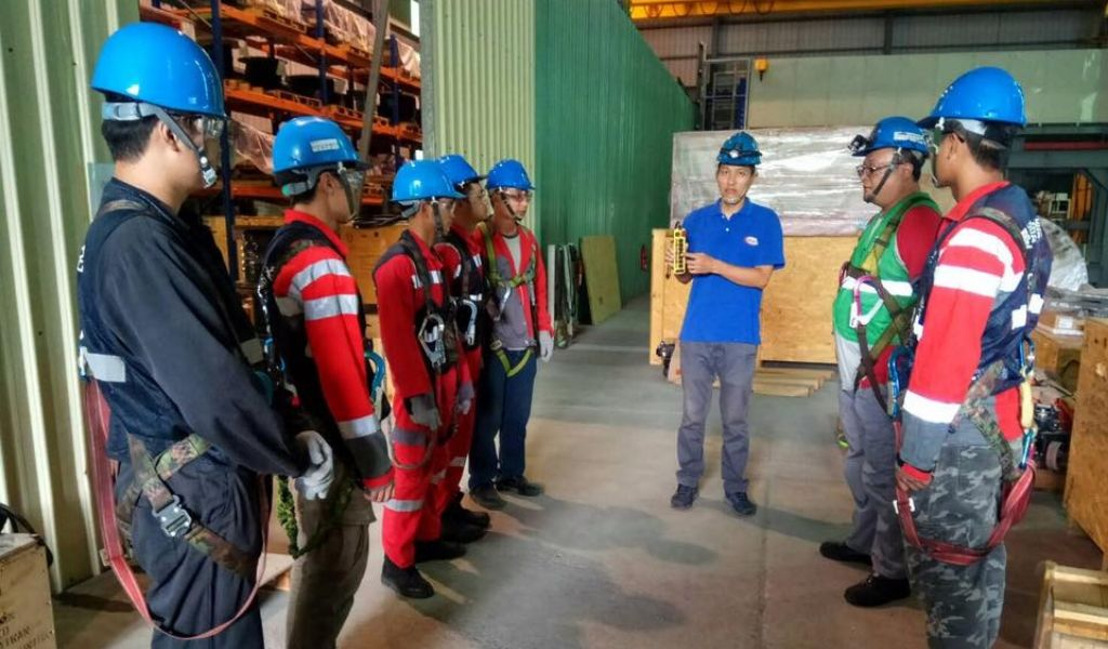 Raising our Health & Safety Standard
Ensuring the safety of our people always remains a priority for us. Every Jebsen & Jessen member company will be certified with the new ISO 45001 by March 2021.
Prudence is one of the core values of our Group. One of its descriptors states that the "safety of our people is an unconditional priority". This makes it clear that having the right standards in place, and abiding by them, is essential to ensuring that our people do not get hurt on the job.

To this end, we are proud to have implemented, almost 20 years ago and long before most other companies in the region started this, a rule that every Jebsen & Jessen member company is obliged to be certified to the globally-recognised ISO14001 and OHSAS18001 standards. This was very much in line with our own Environment, Health & Safety (EHS) goals. Since achieving certification across the group, we operate a regional surveillance and re-certification system to support our companies in maintaining standards. As a result, better work practices evolved over time, as did the understanding of what is unsafe work. Investigations were held after incidents to learn what went wrong and how similar incidents could be prevented in the future. Training sessions not only instilled the Group's health and safety culture in employees, but also encouraged them to incorporate it into their personal lives.

"It is a fundamental right and also an obligation of all employees in our Group to always be safe and to come home to their families free from injury. This requires good standards, solid work procedures and a commitment by both the company and the employees to follow them at all times", said Group Chairman Heinrich Jessen.


From Good to Great

The OHSAS 18001 certification, that we have achieved and maintained over the years, will be replaced with the new ISO 45001 by March 2021. Companies certified to OHSAS 18001 will have three years to migrate to the new standard. As safety is the Group's core priority, we are among the first to begin this migration.

Whereas OHSAS 18001 was essentially a tweaked version of an earlier British Standard, ISO 45001 is the world's first International Standard for occupational health and safety (OH&S). It will promote a safe and healthy working environment by providing a framework that allows organisations to identify and reduce their OH&S risks, reduce potential for workplace accidents and illnesses and improve legislative compliance.

As ISO 45001 has the same structure as the quality and environmental management systems standards ISO 9001:2015 and ISO 14001:2015, it will also be easier to integrate it with other standards.

Why do we need ISO 45001?

We believe that ISO 45001 will help the Group adopt a robust approach to OH&S. This will help further reduce the risks to our colleagues and make our workplace a happier and healthier one.

Cables International in Singapore was the first among our companies to achieve the ISO 45001 certification (implemented concurrently with ISO 14001:2015). Congratulations to the team!


Last year, Jebsen & Jessen Pte Ltd and Jebsen & Jessen Business Services (S) Pte Ltd EHS management system was updated to meet the new ISO 14001:2015 requirements as well, while maintaining the OHSAS 18001:2007 standard requirements. This year, for OH&S, they will do a transitional update from OHSAS 18001:2007 to ISO 45001: 2018. Therefore, the upcoming re-certification audit will be in accordance with ISO 14001:2015 (for environment) and ISO 45001:2018 (for OH&S).

Other member companies are also targeting to complete the migration before the deadline of March 2021.