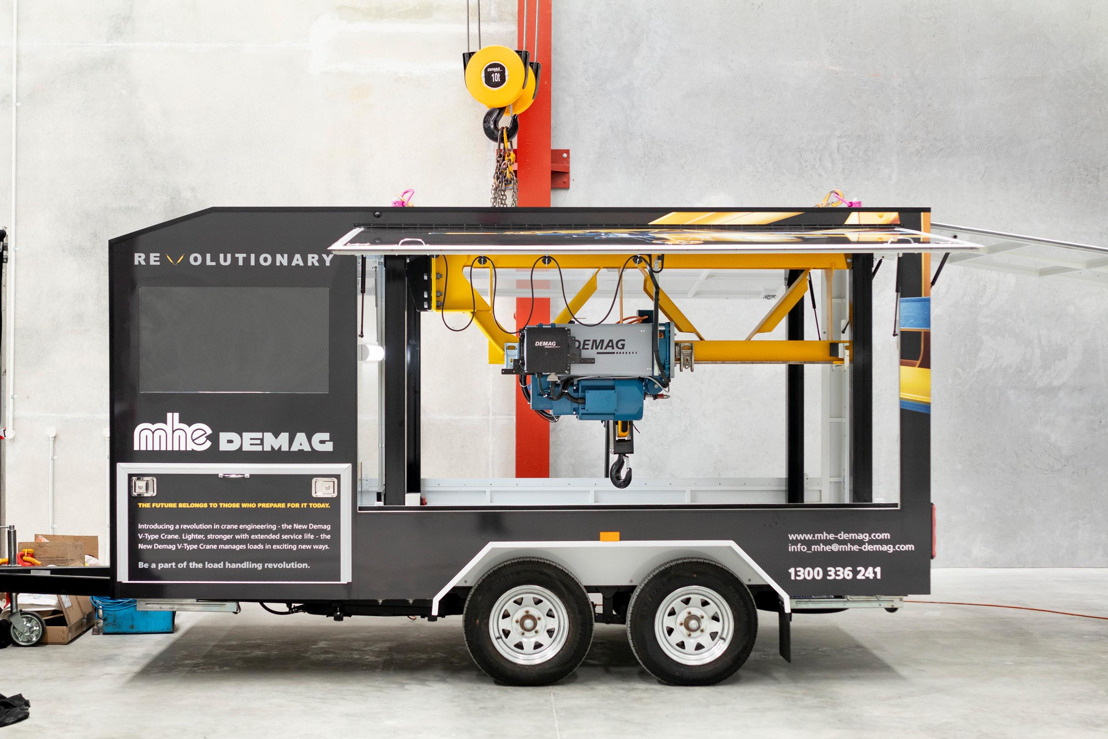 MHE-Demag: Revolutionising Customer Experience
MHE-Demag is revolutionising its business approach in the Australian overhead crane industry with the launch of its new Demag V-type crane.
MHE-Demag is taking the V-type crane to its customers instead of promoting it through conventional methods. A scaled-down but fully functional mobile Demag V-type crane will be taken to key cities on a roadshow, making MHE-Demag first in the crane industry to adopt such an innovative approach.
"We are using this vehicle to approach the Australian market in what is a totally new way for the equipment manufacturing industry," said MHE-Demag Australia Managing Director Vince Di Costanzo.
"Engineering and heavy machinery companies typically face challenges in showing their potential customers the actual products before manufacturing takes place. Customers often have to finalise their buying decision based on engineering drawings or 3-dimensional images. Alternatively, customers are made to travel to the manufacturers' premises or project sites to see the 'real thing'.
"To overcome this, we are taking our new crane to our clients, given them the opportunity to experience it in action."
Commencing in Perth, the roadshow will see the crane being taken to Adelaide, Melbourne, Sydney and Brisbane.
"Our focus is on delivering innovation not only via our product range, but also in the ways we interact with our clients. We are sure that this approach will help our clients to understand our product better and ultimately give us a competitive edge," Mr Di Costanzo said.
Revolutionary features
With its innovative technology, the new Demag V-type crane will enable Australian manufacturing companies to improve their productivity.
The V-Type Crane is 17 % lighter than an average conventional box-section profile girder, and this gives designers' greater freedom in designing factories and other buildings.
Importantly, improved reliability means the V-type has an extended service life.
"As one of the leading manufacturers of cranes and hoists in Australia, we are extremely excited to be the only crane manufacturer who is capable of exclusively offering such advanced technology in Australia," Mr Di Costanzo said.
"The new Demag V-type cranes represents nothing less than a revolution in the Australian crane market. It introduces a number of new features that offer greater levels of precision in handling, enabling sensitive loads to be positioned more accurately, and operators to work faster and smarter. The result is greater levels of efficiency for our customers' businesses."
MHE-Demag had identified a number of key markets who will benefit from this new crane, including manufacturers, steel fabricators, ship builders, utilities and resources companies.
"Virtually every sector is facing renewed levels of competition. To maintain their competitiveness, they need optimum efficiency throughout material flow processes. With the launch of the new Demag V-type crane, MHE-Demag is set to help our customers achieve improved productivity while reducing their overall costs."
The first V-Type Cranes in Australia have been installed at steel fabricator Lighthouse Engineering's new facility in Perth, where they were unveiled at today's launch.
---
About MHE-Demag
MHE-Demag engineers, manufactures and maintains a comprehensive range of industrial cranes and hoists, warehousing equipment such as lift trucks and dock levellers, aerial work platforms, building maintenance units for safe working at heights, compact construction equipment, as well as automated car parking systems. Our customised solutions serve a wide range of industries from general manufacturing to aerospace, covering a broad customer base.
A joint venture between Jebsen & Jessen (SEA) Pte Ltd and Demag Cranes and Components GmbH, MHE-Demag is headquartered in Singapore and operates within its close-knit regional network in Australia, Brunei, Cambodia, Indonesia, Laos, Malaysia, Singapore, Myanmar, Papua New Guinea, the Philippines, Taiwan, Timor-Leste, Thailand and Vietnam, among others. With a dedicated workforce of more than 1,700 well trained staff, our operation is supported by 11 manufacturing facilities and more than 70 strategically located branches in the region.
For more information, visit https://www.mhe-demag.com/