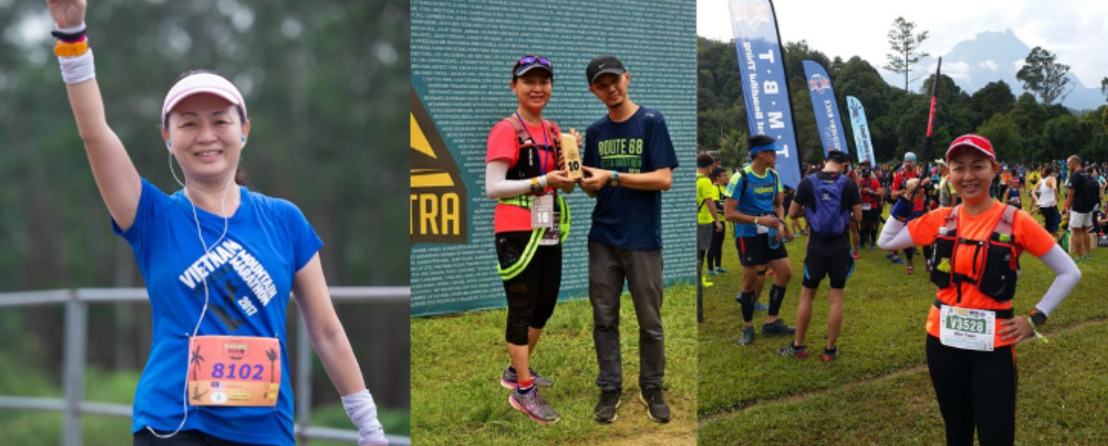 The Jebsen & Jessen-Orbis Virtual Race4Sight has brought to light many amazing individuals and one of them is Cindy Fong, a Senior Administration Executive who has been with Jebsen & Jessen for over 23 years! Some of us might have seen her name in the previous leaderboards but few of us know that running for a marathon is something that she has been doing consistently all these years.
Wanting to stay healthy, mentally and physically got Cindy into running at first. "I normally take a walk during my free time but I started running seriously about 16 years ago. I have always been an outdoor person and I love running with nature. Occasionally, I would also do trail hiking and yoga", shared Cindy who had participated in more than 100 marathons locally as well as overseas in Thailand, China, Hong Kong, Cambodia and Vietnam to name a few. In fact, Cindy had also won the 10th place in the Route 68 Ultra at Gombak, Kuala Lumpur under the Women Veteran category!
Cindy Fong in The Greatwall Marathon at Beijing, China (on the left) and Miri Bungai Beach Ultra at Miri, Sarawak (on the right).
Despite the long lockdown in Malaysia, Cindy continues to stay active by doing in-door walking and yoga workout from watching YouTube videos. Brimming with excitement, as soon as the Movement Control Order restrictions have been lifted, Cindy signed up for virtual run events and started running within her housing community. Due to the lockdown, her plan to run in Gold Coast, Australia and Jogjakarta, Indonesia was put on hold. "I will certainly put this plan back in place once the travel restriction is lifted. Looking forward to continuing my participation in marathon running, especially overseas events doing touring and running at the same time!"
Joining the Jebsen & Jessen-Orbis Virtual Race4Sight comes naturally for a marathon runner like Cindy. With charity in mind, Cindy planned out her workout time, "To earn more mileage, I go running in the morning and walking in the evening. Running is my passion. It helps me to de-stress, apart from keeping me healthy. Running and walking is the simplest form of workouts. All you need is a good pair of shoes and you can start your workout anywhere, anytime. Health is wealth. It's time to change yourself into the "Fit" person."